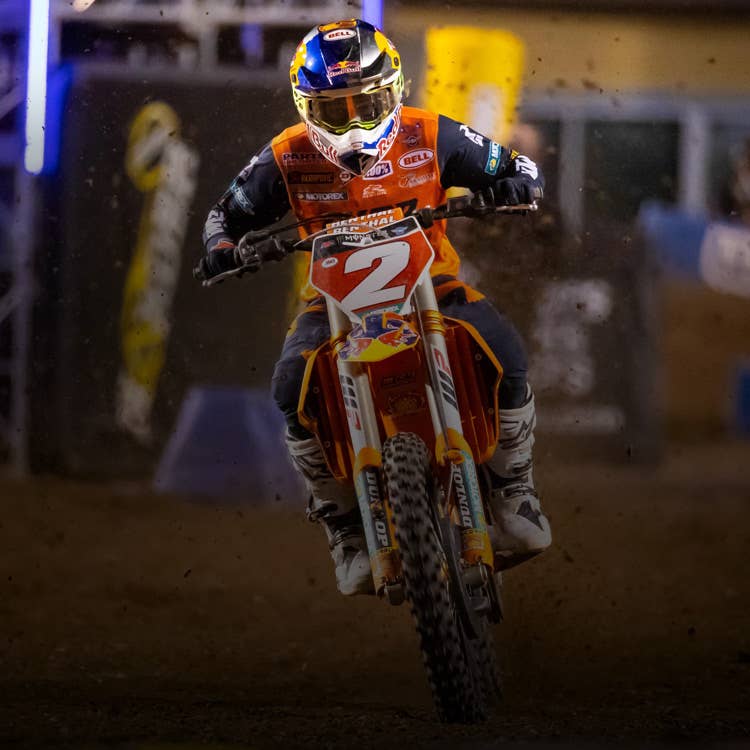 Streaming on Peacock Premium
The 2022 Monster Energy AMA Supercross Championship is heating up! Watch all 17 races here, plus Premium hit movies and shows, live sports, and more.
Monster Energy AMA Supercross Schedule
| Round | date | Location |
| --- | --- | --- |
| Round 1 | January 8 | Anaheim, CA  |
| Round 2 | January 15 | Oakland, CA  |
| Round 3 | January 22 | San Diego, CA  |
| Round 4 | January 29 | Anaheim, CA |
| Round 5 | February 5 | Glendale, AZ |
| Round 6 | February 12 | Anaheim, CA |
| Round 7 | February 19 | Minneapolis, MN |
| Round 8 | February 26 | Arlington, TX |
| Round 9 | March 5 | Daytona, FL |
| Round 10 | March 12 | Detroit, MI |
| Round 11 | March 19 | Indianapolis, IN |
| Round 12 | March 26 | Seattle, WA |
| Round 13 | April 9 | St. Louis, MO |
| Round 14 | April 16 | Atlanta, GA |
| Round 15 | April 23 | Foxborough, MA |
| Round 16 | April 30 | Denver, CO |
| Round 17 | May 7 | Salt Lake City, UT |
All times shown are ET. Schedule subject to change.
Bath Rugby vs. Exeter Chiefs
Bristol Bears vs. Northampton Saints
Newcastle Falcons vs. Worcester Warriors
Wasps vs. Gloucester Rugby
Harlequins vs. London Irish
All times shown are ET. Schedule subject to change.
Make the Jump to Peacock Premium.
More to discover. More to watch. More to love.
Peacock Premium
Unlock all the sports we have, from Sunday Night Football to Premier League—plus WWE, all of our Premium movies, TV shows, and more.
---
Peacock Premium Plus
Everything in Premium, without the ads.*
*Due to streaming rights, a small amount of programming will still contain ads (Sunday Night Football, Peacock channels, events, and a few shows and movies).
---
Customers of participating providers may be eligible for full access to Peacock Premium at no additional cost. Contact your provider to learn more.
Questions?
How do I watch supercross on Peacock Premium?

Become a monthly or annual subscriber to Peacock Premium to watch all of our Premium sports, including supercross and pro motocross. You can find LIVE sports coverage in the Browse section of the Peacock apps and on PeacockTV.com.

Please note that selection of a Premium plan will result in a charge which will recur on a monthly or annual basis, depending on your plan. You can cancel your Premium plan at any time in your Account.

What else can I watch with Peacock Premium?

Premium is your key to unlocking everything Peacock has to offer. With full seasons of exclusive Peacock Original series, next-day airings of current NBC and Telemundo hits, can't-miss live sports, plus every movie and show available on Peacock. There is always something new to discover on Peacock Premium.

What if I already signed up for Peacock?

If you've already followed the steps to create your new Peacock account, and you added a password, you can now Sign In with that email and password on all your supported devices. If you never set your password, or don't remember it, visit peacocktv.com/forgot to reset it now.

What devices does Peacock support?

Is Peacock available for free?

Yes, Peacock offers a Free plan. No credit card required. You just need an email address and password to sign up to access thousands of hours of great entertainment instantly. Once you're signed up, you can start watching Peacock right away. No strings attached. No expiring trial period. It's just free.