USA Insider Exclusive
Create a free profile to get unlimited access to exclusive show news, updates, and more!
Sign Up For Free to View
Pete Davidson SNL Sketches You Can Stream on Peacock
Missing Pete on SNL? We got you covered.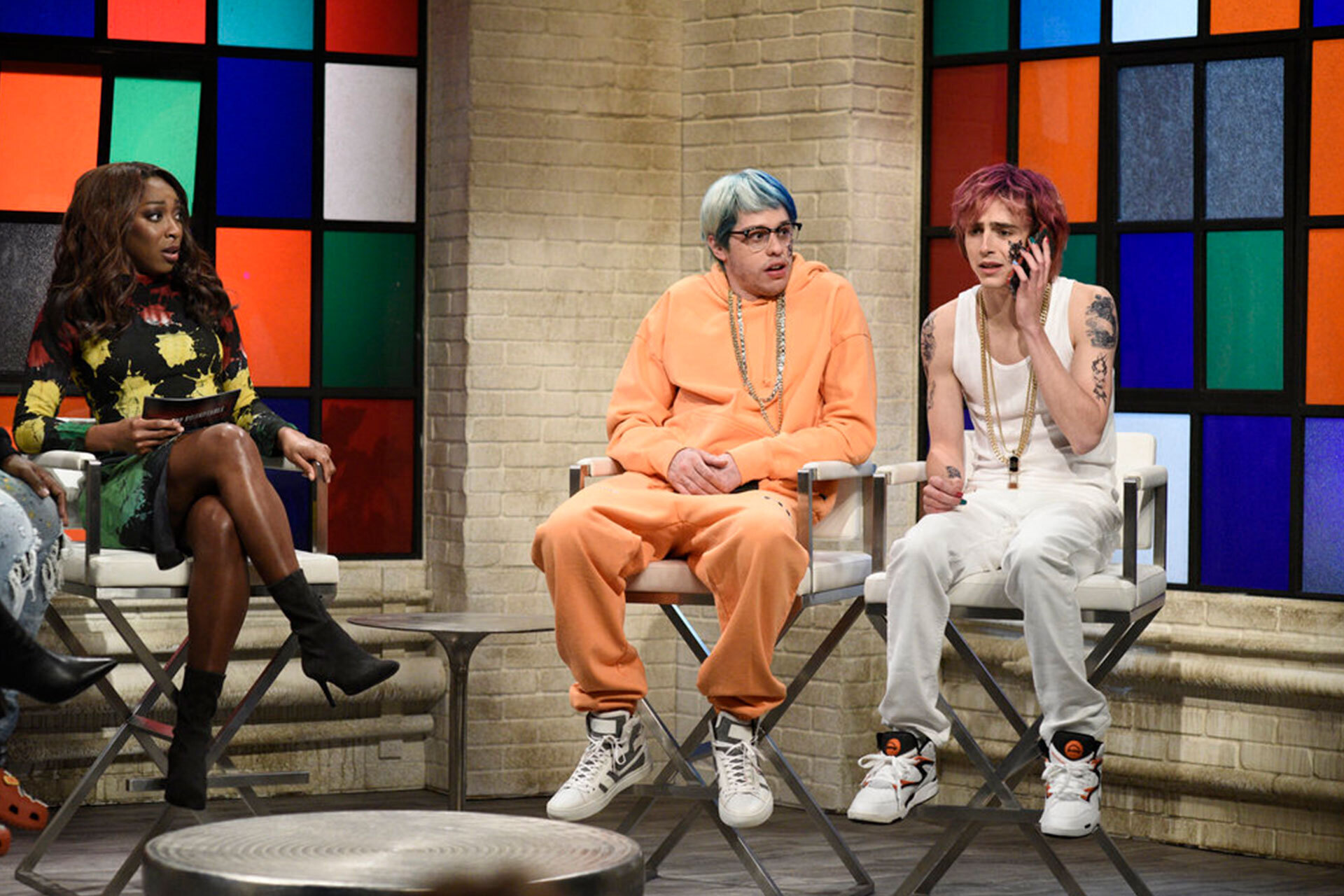 Check out this list of our favorite classic sketches on Saturday Night Live starring the man himself. Still wanting more? Stream Meet Cute, the Peacock Original film starring Pete and Kaley Cuoco, or Bupkis, Pete's semi-autobiographical Peacock Original series. 
1.  "Pool Boy"
Oh, Chad. Davidson's enigmatic dummy has become an iconic mainstay on SNL, and Pool Boy is the sketch that started it all. The guy has a way with words — or, should we say, "word." That word is "okay," and it's quite powerful. After his tryst with Julia Louis-Dreyfus, Chad would go on to travel to Mars, steal JLO's heart, and so much more. Chad's simple mystique never fails to entertain. 
Watch "Pool Boy" in Season 41 Episode 18. 
2. "Rap Roundtable"
Pete Davidson and Timothee Chalamet portray rap duo Guaplord and $mokecheddathaassgetta at a hip-hop panel in this instant classic. The even two skrrt-ed their way to IRL virality with hit single "YEET."  
Watch "Rap Roundtable" in Season 46 Episode 8.
3. "Meet Cute"
It's a classic New York love story: Steve (Pete Davidson) and Claire (Kristen Stewart) bond over their identical orders at a café (soy coffee with latte milk, of course). Steve asks Claire on a date, and the two seem over the moon. The problem? Claire leaves before they've exchanged contact info, and Steve must scour the city to find the girl of his dreams. Talk about "meet cute" serendipity — Pete went on to star in a Peacock Original film of the same name.  
Watch "Meet Cute" in Season 42 Episode 13.
4. "Staten Island Weekend Update"
Pete has long been a highlight of "Weekend Update" with his irreverent segments. In this appearance, Pete and Colin Jost talk about going home for the holidays and who is the more favorable SNL Staten Island native. Spoiler alert: according to Pete, it's Colin.  
Watch "Staten Island Weekend Update" in Season 43 Episode 6. 
5. "Stu"
Will the real Slim Shady please leave Santa alone? In this Eminem parody, Stu (Pete Davidson), a crazed fan of Santa Claus (Jason Bateman), writes increasingly desperate letters to the North Pole in hopes of getting a PS5 for Christmas. With the help of Elton John (Bowen Yang) and Dido (Kate Mckinnon), Stu is hoping to make a holiday miracle happen.
Watch "Stu" in Season 46 Episode 7.
6. "Diner Lobster"
"The whole seafood section is on the menu as a joke," says Chris Redd to Pete Davidson, who has just committed the sin of ordering lobster at a diner. In this iconic sketch, first pitched by then-writer John Mulaney and Colin Jost in 2010, later to be revived when Mulaney hosted SNL in 2018, a full Les Misérables parody ensues. If you haven't yet seen Kenan Thompson as lobster Jean Valjean and Kate McKinnon as his daughter, Clawsette, you're missing out.  
Watch "Diner Lobster" in Season 43 Episode 18. 
Stream Saturday Night Live on Peacock.