USA Insider Exclusive
Create a free profile to get unlimited access to exclusive show news, updates, and more!
Sign Up For Free to View
Must-Watch True Crime Documentaries on Peacock
Check out these popular true crime documentaries streaming now.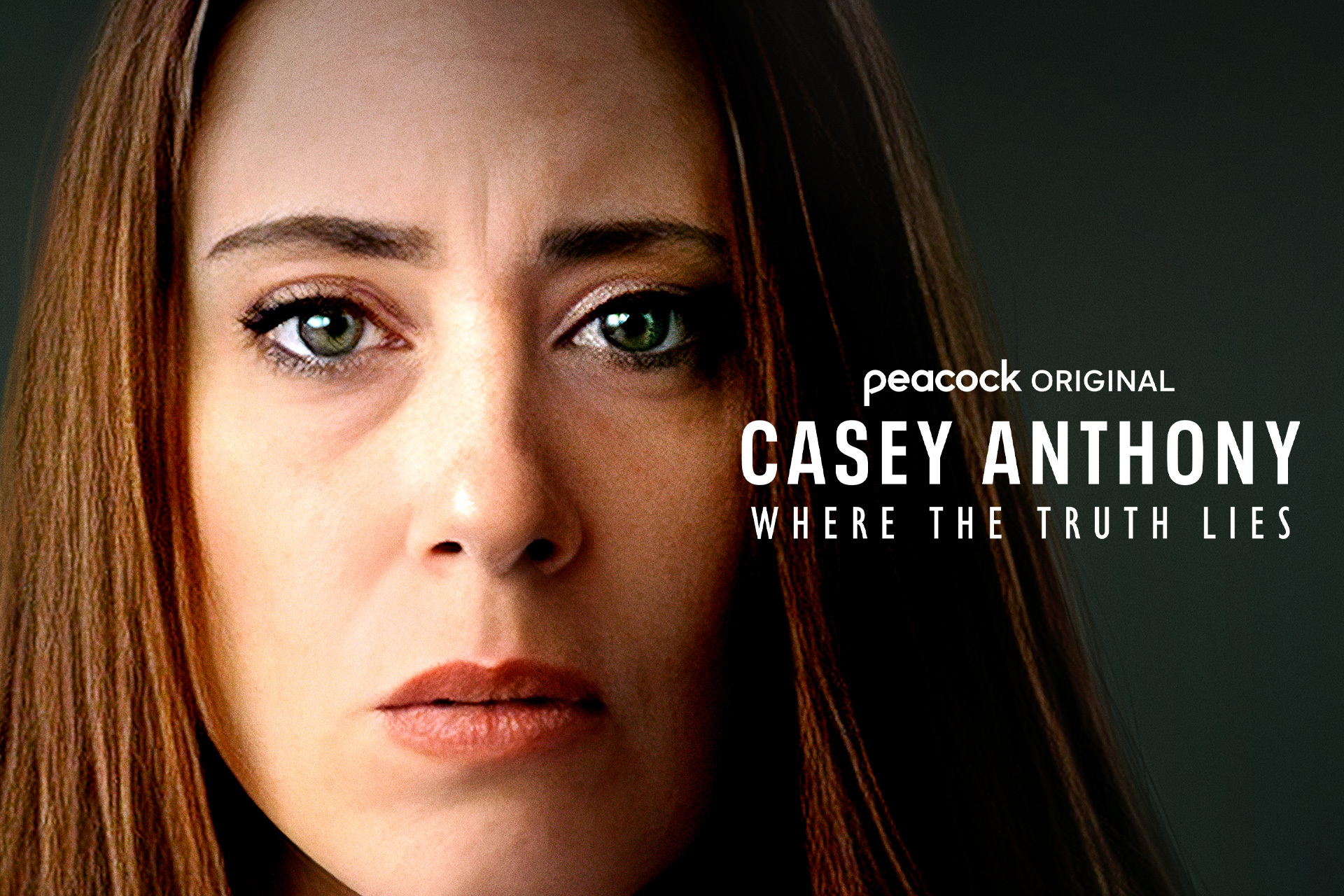 Are you someone who likes to get to the bottom of a criminal case? Here at Peacock, we dive into true crime as much as you do. That's why we've given you so much to choose from. There are tons of true crime titles on our service, from 13 seasons of Dateline episodes, to popular series, hit movies, and so much more. But here we're focusing on the hard core: the documentaries. And while there are way too many to list, below are what we feel are some outstanding true crime documentaries on Peacock.
Casey Anthony: Where the Truth Lies
Considered one of the first "trials of the century," the Casey Anthony case polarized conversation in living rooms across America. There have been several movies and documentaries made to fill in the gaps, and yet, the woman at the center of it all remains the biggest mystery. In this three-part Original docuseries, Casey Anthony finally tells her story in her own words, offering a new perspective on the untimely death of her two-year-old daughter Caylee.
Watch Casey Anthony: Where the Truth Lies on Peacock
Who Killed Robert Wone?
This Peacock Original documentary details the peculiar murder of Robert Wone, a young attorney who was found mysteriously stabbed to death at a friend's home in Washington, D.C. With little blood at the scene and no signs of struggle or robbery, suspicions heighten after police interview the three house mates. But a lengthy investigation into the murder reveals unthinkable twists and turns that leave police with more questions than answers.
Watch Who Killed Robert Wone? On Peacock
John Wayne Gacy: Devil in Disguise
This Peacock Original tells the chilling story of one of the world's most notorious serial killers told through the words of John Wayne Gacy, "The Killer Clown," himself, alongside those who were forever changed by his unspeakable deeds in the Chicagoland area during the 1970s, and others who believe that the full truth about the case remains concealed to this day. Featuring exclusive footage and voices, the series unfolds across six episodes and explores why, more than 40 years after Gacy's crimes were discovered, the case continues to grab headlines.
Watch John Wayne Gacy: Devil in Disguise on Peacock
Cocaine Bear: The True Story
In the hit Hollywood movie Cocaine Bear, a huge bag full of cocaine drops out of the sky into the woods of North Georgia and is eaten by a black bear, who goes on an epic rampage. It all seems like fantasy, but it's actually based on a true story that's just as bizarre as the movie plot, involving drug cartels, murder, mayhem and a Lexington Kentucky blueblood. This documentary features interviews with those closest to the case, including the former sheriff who was one of the first on the scene, and the special agent whose team found the Cocaine Bear.    
Watch Cocaine Bear: The True Story on Peacock
I Love You, You Hate Me
This documentary chronicles the spectacular rise of Barney the Dinosaur and the furious backlash against the character — and what it says about the human need to hate. From Barney-bashing to frat parties to homicidal video games, something in American society broke into a million pieces, and it's never been put together again… or is this just who we were all along?
Watch I Love You, You Hate Me on Peacock
The Murder of Gabby Petito: Truth, Lies and Social Media
The disappearance of 22-year-old video blogger Gabby Petito gripped America and caused the internet and social media to go into a frenzy. This definitive documentary reveals the truth behind the mass of global speculation and online theories. In exclusive interviews, Gabby's own family sheds new light on the real Gabby Petito, while experts and journalists who covered the case tell the whole story in forensic detail.
Watch The Murder of Gabby Petito: Truth, Lies and Social Media on Peacock
Epstein's Shadow: Ghislaine Maxwell
This three-hour Peacock Original documentary investigates the mysterious world of Ghislaine Maxwell, a British socialite and once heiress to the Maxwell fortune, whose life takes a sordid downturn when she meets Jeffrey Epstein — a serial sex offender. A glimpse into the complicated story of power, sex, and money that leads to her arrest and trial.
Watch Epstein's Shadow: Ghislaine Maxwell on Peacock
Monster in the Shadows
The May 2012 disappearance of teenager Brittney Wood in rural Alabama shocked the state, yet police investigations were not able to solve the mystery and a scandalous revelation about Brittney's family caused her case to almost become forgotten in the public eye. With the help of the producers, Brittney's mother Chessie continues the search, exploring theories ranging from Brittney being murdered by her uncle, who committed suicide two days after her disappearance, to human trafficking. Through gripping plot twists at the end of each episode, the horrific truth about Brittney's entire family is revealed in this three-part Peacock Original docuseries.
Watch Monster in the Shadows on Peacock
Amber: The Girl Behind the Alert
Most people know the Amber Alert. In this documentary, discover the true story behind nine-year-old Amber Hagerman's kidnapping and a murder mystery that remains unsolved after 27 years. Despite thousands of leads Amber's killer remains at large, but her legacy lives on. Lessons learned from her case inspired the alert system that could have saved Amber's life but instead has saved more than a thousand children. Amber's mother gives her final interview and shares chilling documentary footage that captured Amber's final days.
Watch Amber: The Girl Behind the Alert on Peacock
The Battle for Justina Pelletier
This four-part Peacock Original docuseries explores the harrowing true story of a 14-year-old-girl who entered Boston Children's Hospital with a mysterious set of symptoms. Quickly, suspicions turned toward the parents and Justina became a ward of the state. The family called it "medical kidnapping." The hospital accused the parents of medical child abuse, aka "Munchausen syndrome by proxy." The battle between the two sides hurled the family into a national debate about parental rights, child protections, and the gray areas in between. 
Watch The Battle for Justina Pelletier on Peacock
Murdered and Missing in Montana
This documentary examines three shocking cases of young Indigenous women whose mysterious deaths all occurred within a year period, on and around two Native American reservations in south-central Montana. With access to family members, tribal officials, law enforcement and community activists, it offers unparalleled access to a situation shrouded in mystery.
Watch Murdered and Missing in Montana on Peacock
Sins of the Amish
Despite their reputation as peaceful, gentle people, Amish congregations are fraught with horrific abuse that the outside world rarely hears about. In this Peacock Original, a group of survivors takes a stand against century-long traditions to speak out against oppression in the hopes of effecting change for future generations. Despite teachings that the Amish should never go outside the church for help, some women are brave enough to take their abusers to court.
Watch Sins of the Amish on Peacock