USA Insider Exclusive
Create a free profile to get unlimited access to exclusive show news, updates, and more!
Sign Up For Free to View
Highlighting These Stellar Songs from The Official Bel-Air and Spotify Playlist
Which one is your favorite?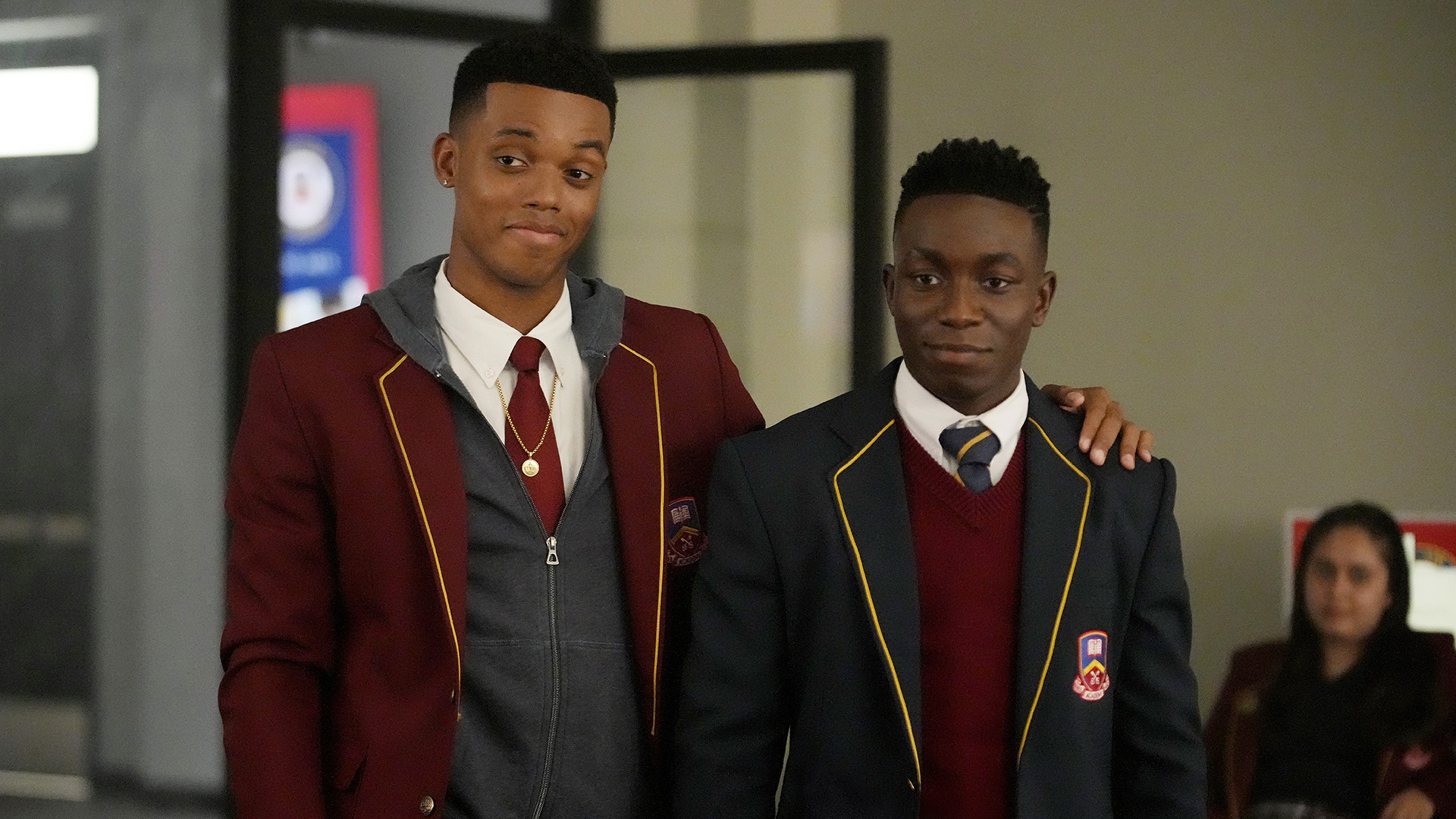 With Bel-Air's triumphant return for Season 2, we're highlighting songs from the show's stacked official Spotify playlist. Consisting of 56 incredible songs covering the range of love, loss, and the pursuit of one's dream, this playlist highlights the themes of the show perfectly, and stands as both an incredible listening companion and major source of music for casual listening.  
"Dreams and Nightmares" – Meek Mill  
It almost goes without saying that Meek Mill's 2012 "Dreams and Nightmares" is a once in a generation hit and one of the most iconic contributions to hip-hop to date. Following the story of a young man whose prodigious talent for music leads him out of the environments that once severely underserved him, "Dreams and Nightmares" perfectly illuminates the possibilities of our wildest ambitions, and the anxieties that arise when we fear losing all that we've worked for. For Will, a character who finds himself removed from his hometown of Philadelphia and thrust into a world of wealth and abundance, there can be few better songs to include than this one from the largest rap artists out of the City of Brotherly Love. As Adrian Holmes — the actor behind Uncle Phil— commented: "[Dreams and Nightmares] is the best song, a dynamic introduction to our show and it gives me goosebumps every time I hear it."  
"Gorilla" – Little Smiz  
Within the first few measures of the song, listeners are met with a series of triumphant horns signaling the arrival of hip-hop's newest royal. Little Smiz, evoking the presence of legendary artists, delivers a series of delightfully audacious bars that envelops its audience within her indomitable confidence.  A Black woman without limits, she — like the similarly indomitable Hilary Banks — cannot and will not be moved by the negativity strangers direct her way. To quote the colloquialism, 'nobody can't tell them nothing'.   
 
"N95" – Kendrick Lamar  
Kendrick Lamar starts off right in the listener's ear with his delivery of one of the most topical and sonically novel songs of 2022. Over the course of its more than 3-minute length, the Pulitzer-winning rapper levies double entendre and palpable imagery to ask a single question: who are we when we remove the masks — both literally and metaphorically — that we wear to traverse society? A song that perfectly illuminates the worries one has when thrust into new environments — specifically one's that are shrouded behind a veil of wealth and opportunism — N95 is a humbling work of art that invites its audience to reject materialism and embrace the understanding that behind the structures, ideas, and objects that define us, we all remain painfully and undeniably human.  
"Photosynthesis" – Saba, Jean Deaux 
Jean Deaux and Saba provide immersive vocal performances that immediately enrapture listeners with radically empathic reflections on the lengths people can go to in order to escape the confines of their realities. Complete with stellar production and a mind-melting chorus, this song gives credence to the perspectives of folks longing for reprieve from the hardships of life and features a call for collective hope and success for the loved ones, neighbors, and community members we hold near and dear to us.  
"Sorry" – Tierra Whack  
Philadelphia's own Tierra Whack brings listeners through the bargaining stages of a relationship in distress. Equal parts heartbreaking and evocative, Tierra's delivery follows a young person at risk of losing the love and memories they once cherished, as they wrestle with the realization that the breakup may have been their fault to begin with.  
"I'm Da Boss (feat. Rick Ross)" –Meek Mill, Rick Ross  
With his second appearance on this playlist, Meek Mill channels every ounce of bravado and finesse you would expect from a true boss. Where "Dreams and Nightmares" reflected reverently on the prospects and anxieties of wealth, this song finds the star reveling in the mighty majesty of his riches. When you are as powerful as Meek and Rick Ross, cars, jewelry — hell, the entire world is all there for the taking. So long as you are brave enough to claim it, that is.  
"Satisfaction" – SiR 
Not every love story can be a fairytale, and what seems as much at first may be an illusion in time. This is the major conflict in "Satisfaction" . The unshakeable realization that loving someone can only take you part of the way when building meaningful relationships, the rest requires dedication and commitment.  
"Kool Aid"- Kirby  
Kirby's bright vocals deliver a sugar-sweet melody on this head-bobbing love anthem. Exploring the novelty and passion of new love, "Kool Aid" takes its audience on a journey through the desires and good feelings that come from meeting the person of your dreams. Revealing how, even grown, we can still find the love that makes us feel young and free again.  
"No Role Models"- J. Cole  
Beginning with a shout-out to the late great actor James Avery, "No Role Models" conveys the story of a young man who — in the absence of real role models — turns to his television as a vehicle for life lessons.  J. Cole, as narrator, investigates the impact of certain images on formative minds, and fears for a world where archetypes of leadership and integrity are rejected for the allure of vanity. It is visceral, honest, and, with its direct references to The Fresh Prince of Bel-Air, continues to be the perfect encapsulation of Bel-Air's themes.  
Watch Bel-Air Season 2, now streaming on Peacock