USA Insider Exclusive
Create a free profile to get unlimited access to exclusive show news, updates, and more!
Sign Up For Free to View
How to Watch New York Jets vs. Las Vegas Raiders: Stream on Peacock LIVE, Schedule, Kickoff Time
The Week 10 Sunday Night Football matchup brings you a battle between the New York Jets and the Las Vegas Raiders. Find out where, when, and how to stream the game LIVE.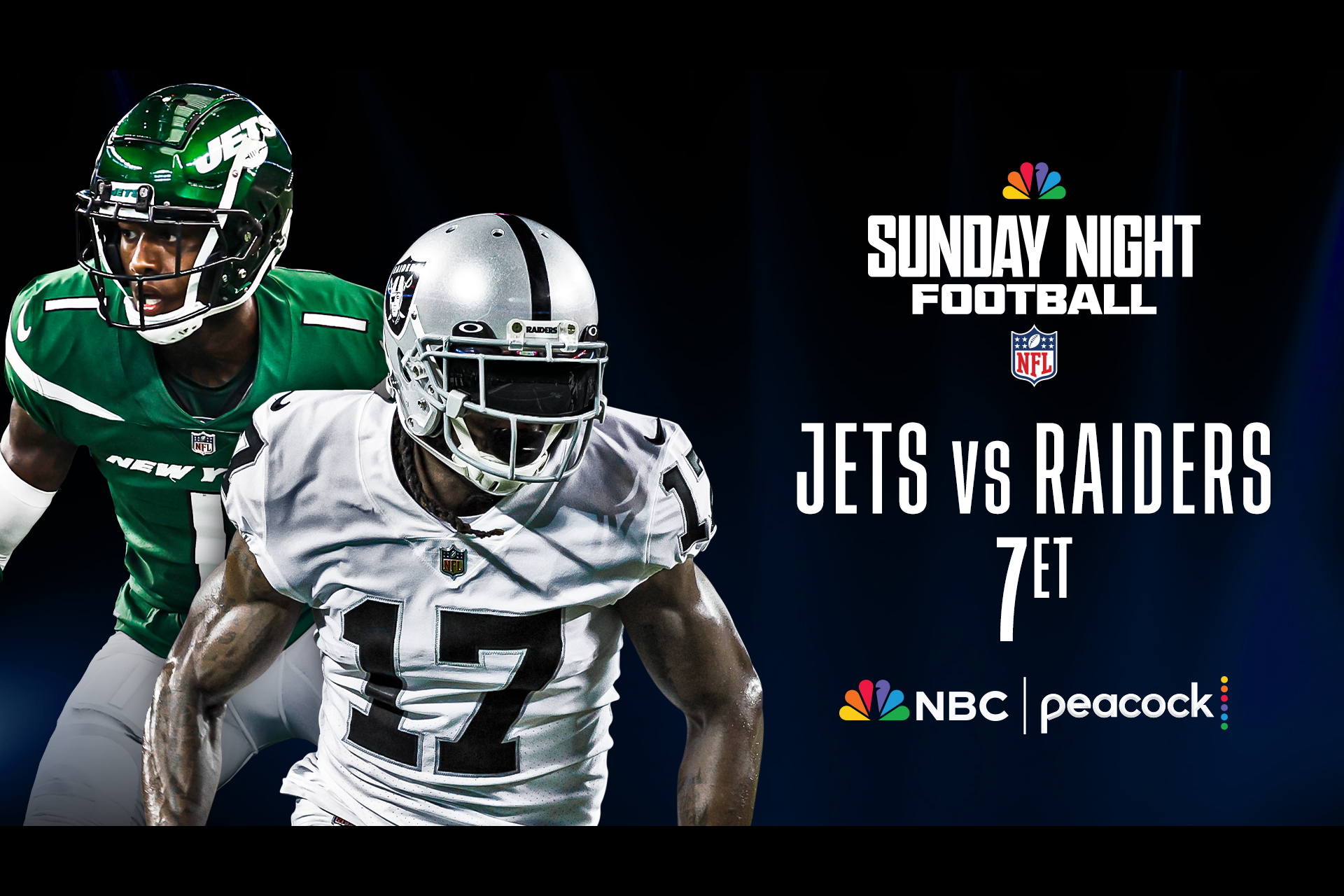 Sunday Night Football is home to some of the most thrilling matchups of the NFL season. Every week, two of the league's toughest teams face off in primetime on Sunday's biggest stage. This week brings the action to Paradise, Nevada where the New York Jets will take on the Las Vegas Raiders. 
New York Jets vs. Las Vegas Raiders on Sunday Night Football 
The Jets (4–4, 3rd in AFC East), are struggling on offense, though their record is better than you might expect after losing Aaron Rodgers in Week 1. The team, as well as their fans, are wondering if there is any hope of seeing Rodgers back on the field this season. Rodgers is aiming to get play again in 2023, and his recovery appears to be ahead of schedule, however there is no definitive timeline. If the Jets are very lucky, and Rodgers experiences no setbacks, there is a chance he'll be back out there in late December. Until then, Zach Wilson remains the starting quarterback. While Wilson has taken much of the blame for New York's offensive woes, Head Coach Robert Saleh is hesitant to lay it all on him. He points out correctly that offensive line play and dropped passes have just as much to do with the Jets' inability to find the endzone as anything Wilson is doing. All that said, this is still an eminently winnable game for the Jets. The defense is still absolutely terrifying. They routinely bring drives to a dead stop. Throw near Cornerback Sauce Gardner, and he's just as likely to intercept the pass as knock it out of the receiver's hands. Put this defense up against a rookie QB like Raider Aidan O'Connell and the Jets could leave Vegas with a win. And a win this week means there's still an outside chance Gang Green makes the playoffs. Expect this team to take no prisoners this weekend. 
The Raiders (4-5, 3rd in AFC West) are coming off a big win against the New York Giants. Just days after the firing of Head Coach Josh McDaniels, interim Head Coach Antonio Pierce turned in one amazing performance in his first game, resulting in a 30–6 rout of the Giants. The Raiders are hoping that's not an outlier, given that they spent the previous two weeks losing to the Lions 26–14 and the Bears 30–12. This team has struggled on offense about as much as the Jets have. That's why they're hoping their Las Vegas luck continues this weekend against New York's other team. Aidan O'Connell looked great in last week's game, but he's unproven against a defense as good as the Jets. That could turn out to be an advantage though, as he may be harder to predict. Plus, he has two excellent weapons at his disposal. First, Wide Receiver Jakobi Meyers, who has 442 receiving yards and 5 touchdowns so far this season. That'll be especially handy this week since Sauce Gardner will be tied up with the Raiders' other star receiver Davante Adams. Adams has 573 receiving yards and 51 catches so far this season, and he gets open faster than you can blink. Adams and Gardner is the battle to watch at this game, but it could open up the rest of the field for O'Connell and give the Raiders an opportunity to beat both New York Teams. 
When does Jets vs. Raiders start? 
Sunday Night Football starts Sunday, Nov 7 at 7p ET with Football Night in America. You'll get highlights of the day's action, plus previews, predictions and analysis of the upcoming game. Kickoff for Jets vs. Raiders is at 8:20p ET. 
Where Will Jets vs. Raiders be played? 
The game will be played at Allegiant Stadium in Paradise, NV. 
Where Can I Stream Sunday Night Football? 
Every Sunday Night Football game, including New York Jets vs. Las Vegas Raiders, will air on NBC and stream LIVE on Peacock. Just download the Peacock app, navigate to the Sports category, and start streaming the biggest game of the week.  
Can I Watch in Spanish?  
Every Sunday Night Football game will be available to stream LIVE en Español on Peacock.