USA Insider Exclusive
Create a free profile to get unlimited access to exclusive show news, updates, and more!
Sign Up For Free to View
Your Guide to The Office Superfan Episodes
Dunder Mifflin like never before.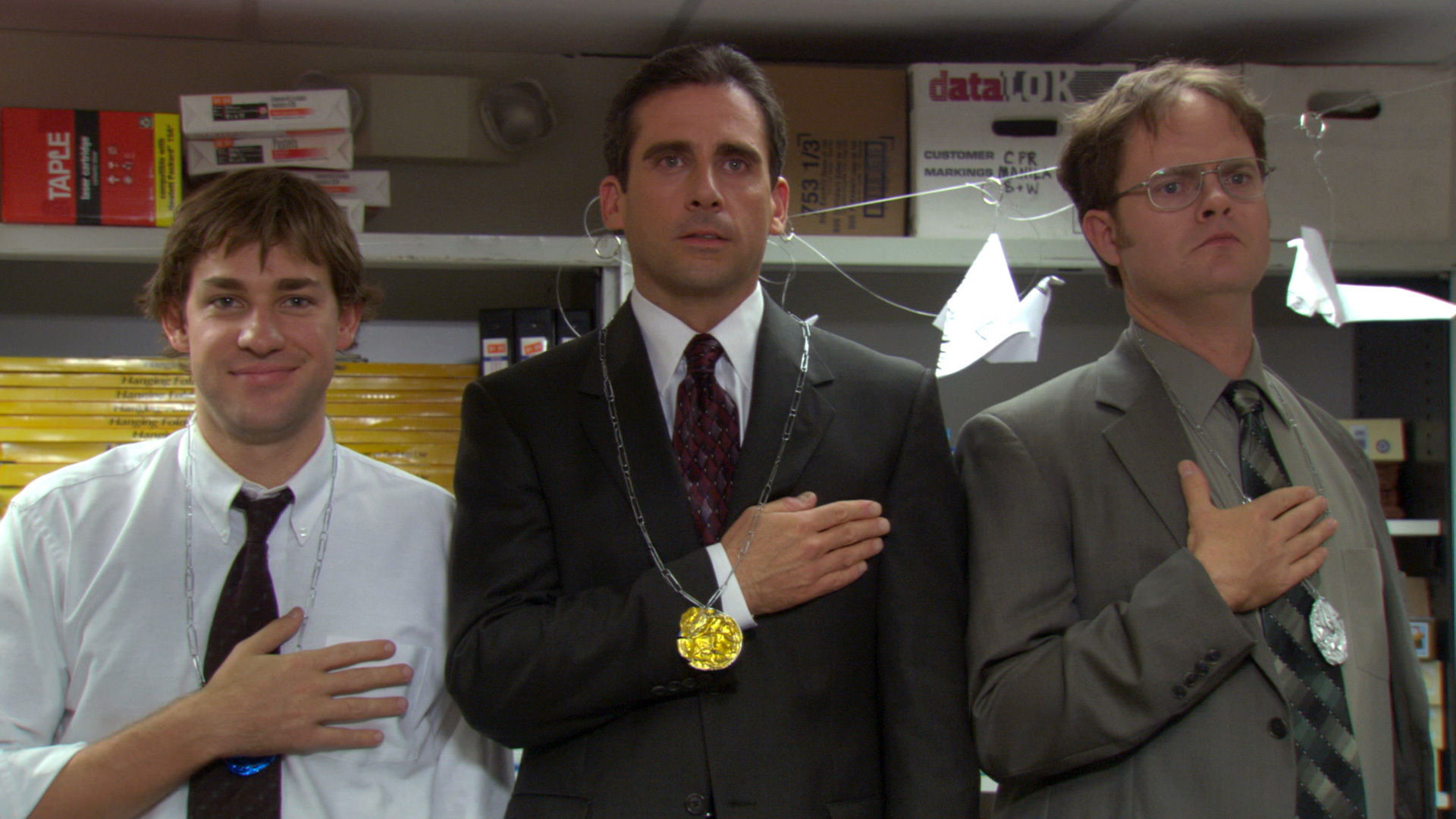 Have you binged The Office dozens of times? Do you wish that your next rewatch had a little more oomph? Some secret sauce? A bit of never-before-seen footage? If so, ask your doctor if The Office Superfan Episodes could be right for you. When they say, "that's not a medical question," come on over to Peacock and stream over 100 episodes of The Office like never before. 
What is a Superfan Episode, you ask? Why, it's only the latest and greatest way to watch your favorite comedy! Imagine a world where a beloved episode is transformed by the addition of extended scenes and never-before-seen material. That world is here.  
Below, check out a list of all The Office Superfan Episodes you can watch right now on Peacock.  
Season 1 
A documentary crew films Dunder Mifflin's reactions to downsizing rumors; a feud is born between Jim and Dwight. 
Michael's mockery of the mandated diversity training includes a fake signature, a racist game and a hastily shot video. 
The officemates rebel against Dwight's tyranny by inventing fake illnesses and locking him in the conference room.  
Michael's morale-boosting party goes too far; Jim gets the best of his alliance with Dwight — until he doesn't. 
Michael tips the scales to help his flawed, handpicked team in an unruly basketball game against the warehouse workers. 
From cleaning his car to forcing a meeting into the hallway, Michael works hard to impress a saleswoman at the office. 
Season 2 
Michael hosts the office's raunchy awards ceremony; Dwight investigates writing on the wall of the women's bathroom. 
Todd Packer visits, and he's more inappropriate than ever; Michael's emails get him in trouble, putting everyone on edge. 
Michael and Dwight consider becoming roommates; Jim and Pam host the Office Olympics -- closing ceremony included. 
Dwight is jealous of Ryan's ambition but gets the last laugh when he discovers the temp can't execute a simple task. 
Michael's hands are tied when he wants to fire Toby; as layoffs loom, Michael's indecision spoils the Halloween spirit. 
Michael teaches Dwight a lesson after going head-to-head during a lunchtime karate bout; Jim and Pam get too close. 
Michael's unorthodox salesmanship shocks Jan; Pam recalls her worst first date; Threat Level Midnight gets a table read. 
Michael goes through the suggestion box; Jim and Pam trick Dwight into being late; Ryan goes on a scavenger hunt. 
Michael tries to win over the staff after intercepting an email and realizing he wasn't invited to Jim's barbecue. 
Michael upends Secret Santa by changing the rules halfway through; Kevin mans the turntables; Oscar learns about Creed. 
The officemates are on their worst behavior during a harbor cruise; Creed has a hidden talent; Jim reveals his feelings. 
Michael accidentally grills his foot, and the officemates suffer; Dwight's heroism has pleasant side effects. 
Jim goes to Hooters with Michael to preserve a secret; the team spring-cleans the office; Dwight probes Oscar's absence. 
Michael questions the loyalty of his troops and his sales acumen after a nasty prank; Jim has a nightmare day. 
Michael brokers a "Men in the Workplace" summit between the officemates and the warehouse workers; Roy confronts Jim. 
Michael waxes poetic about NYC during a corporate trip; the officemates have contrasting Valentine's Day experiences. 
Dwight brags about an award and gets shaky advice for his keynote speech; a thermostat war breaks out at the office. 
Michael is brought back to his childhood during "Daughters' Day" at the office; Jim shows he's great with kids. 
The officemates celebrate Michael's birthday at an ice rink amid Kevin's potential cancer diagnosis. 
Dwight finds half a joint and launches a probe; Michael goes on an epic anti-drug tirade; Jim suffers under Pam's jinx. 
Photo day at the office turns into a nasty airing of grievances when Michael introduces his brand of conflict mediation. 
Two women compete for Michael's attention during Dunder Mifflin's casino night; Kevin gets a music gig; Jim goes all in. 
Season 3 
Michael and Dwight try a little too hard to understand homosexuality; Jim gets pranked at his new job.  
Dwight questions Jim's new boss; Angela gets highly specific instructions for a secret rendezvous. 
Karen admits to a guilty pleasure; Dwight suggests charging Creed rent; Pam feels self-conscious in her new wardrobe.  
Michael tries to best Toby's grief counseling; Pam organizes a bird funeral and encourages staff to attend. 
Pam tries to help Michael focus; Dwight takes Ryan to the Schrute family cemetery; Stanley goes for Pretzel Day seconds. 
Dwight's appreciation of Indian culture makes Angela jealous; Jim turns down a tuna dinner; Kevin pokes fun at Michael. 
Michael and Dwight practice their pitch to keep the branch from closing; Dwight test-drives the CEO's trampoline. 
Pam reintroduces Jim to the team; Michael does a magic trick during orientation; Andy and Dwight jostle for third rank. 
Dwight and Angela suspect an officemate is a convicted murderer; Pam gets even after Jim's prank; Prison Mike debuts. 
Michael wants to cancel Christmas; Angela crosses a line with Toby; Kelly and Ryan dumpster dive for a lost gift. 
Michael brings his Jamaican vacation back to the office; Stanley refuses to work; Andy and Dwight have a stack-off.   
Andy guns for Dwight; Angela tries to win over Pam; Pam wins an art contest; Dwight gives away his possessions. 
Karen is a wary onlooker as Pam and Jim pull a tuneful prank; Michael misses Dwight; Kevin jokes about Oscar's piñata. 
Michael asks Darryl to turn the warehouse into a sexy venue; Pam and an adult performer exchange advice. 
Phyllis sets up Angela with the ideal date; Jim encourages Dwight to card the guests; Michael sits at the bride's table. 
Jim helps Michael prep for a guest lecture; Meredith gossips about Pam and Roy; Dwight eyes a suspected vampire.  
Dwight inspects David Wallace's house; Ryan gets an earful from Stanley; Michael memorializes a special piece of paper. 
Darryl notices Michael wearing women's clothing; Dwight wants to emulate his heroes by refusing accolades and gratitude. 
Kevin is afraid of Andy; Stanley wins a bet with Karen; the office takes turns trying to talk Michael down.   
Andy discovers he has been dating a teen; Kelly and Angela argue; Pam recalls Michael's collection of apology videos. 
Andy tags along as Dwight investigates a flasher incident; Michael treats the women in the office to a mall outing. 
Michael wants his replacement contenders to wrestle, devour hotdogs and walk across coals to prove themselves. 
Kevin ranks Karen and Pam; Dwight extends a secret offer and unveils Schrute Bucks; Michael feigns chivalry. 
Season 4 
A freak car accident sends Michael reeling as his reputation hits a new low; Kevin's suspicion is proven true. 
Michael holds a 5K charity run to try to lift the branch's curse; Pam and Jim admit that they're dating. 
Ryan brings the company into the digital age; Dwight offers Angela a scraggly cat and she gives him a reality check. 
Michael sets out to prove he can win back clients with gift baskets; Angela and Oscar fear they're going to get fired. 
A newly single Dwight fights with online sales; Angela preps for the website launch party; Michael asks Pam for advice. 
Michael finds he's not on corporate's VIP list; Angela organizes Michael's party; Toby takes online driving school.  
Michael moonlights as a telemarketer; Jim and Pam book a stay at Dwight's farm; Jan arrives with curtain samples. 
Dwight cringes as Andy wears Angela down; the office discusses Michael's money issues; Michael enlists Oscar's help. 
Michael leads the creation of a company commercial; Dwight gets lost in an online world; Andy needs advice about Angela. 
Michael ropes Jim into a scheme against Karen; Michael announces Stanley is leaving; Andy eyes the Finer Things Club. 
Michael embarks on a journey of survival; Jim is left in charge, grappling with the idea that he's becoming Michael. 
Michael testifies as a witness in Jan's lawsuit; Pam pressures Jim into sharpening his ping-pong skills for a rematch. 
Michael and Jan host a dysfunctional dinner with both reluctant invited guests and eager uninvited ones. 
Michael, on the rebound, asks his employees to set him up on a date; Kevin and Andy collaborate to solve a problem. 
Michael and Dwight find out what it means to party with Ryan; Jim's plan to not work Saturday leaves the team trapped. 
Michael confronts Stanley after he snaps in a meeting; the office reacts to Pam wearing glasses for the first time. 
Michael tries to hire young recruits at a job fair; Jim golfs to save his job; Dwight takes charge of an empty office. 
Michael wants to celebrate Toby's last day; Toby introduces the office to Holly; Jim and Pam think about their future.  
The office celebrates Toby's farewell with an extravagant party; Jim's proposal to Pam gets interrupted by Andy. 
Season 5 
Michael plans to pursue a romance with Holly; Oscar offers to set Holly up with someone; Jim adjusts to Pam's absence. 
Corporate ups the stakes for the weight-loss incentive program; Michael is oblivious to Holly's hints to ask her out. 
Michael struggles with his feelings for Holly when she hosts an ethics seminar; Pam gets drinks with classmates. 
Michael grapples with fatherhood while planning Jan's baby shower; Dwight performs a series of stroller safety tests. 
When an after-hours rendezvous with Holly leads to an office robbery, Michael's solution is to hold a charity auction. 
Darryl drives Michael and Holly to Nashua; Dwight taunts Andy about Cornell; Pam bonds with her future brothers-in-law.
Customer survey results are in; Jim finds answers to one of Dwight's conspiracies; Andy makes wedding arrangements. 
Michael has an adverse reaction to Toby's return and tries to sabotage him; Pam inadvertently starts a microwave feud. 
Andy becomes Oscar's wingman while on a business trip with Michael in Canada; Jim impatiently awaits Pam's return. 
The office is divided on how to spend a budget surplus; Dwight, Angela and Andy visit Schrute Farms for wedding errands. 
Phyllis blackmails Angela while throwing a Moroccan-themed office Christmas party; Michael stages an intervention. 
As Andy finalizes wedding details and RSVPs, the office works together to conceal a painstakingly obvious secret. 
Michael and Dwight concoct a plan for a request from David Wallace; the office gets into a heated Hilary Swank debate. 
Dwight ignites a scheme that sends Stanley to the hospital; Michael tries to reduce office stress levels. 
The office prepares for a Michael Scott roasting session that ultimately causes Michael to take a personal day. 
Michael embarks on a lecture tour with Pam; Jim and Dwight struggle with their new party planning duties. 
Michael protests Valentine's Day but then becomes enamored of a mystery woman; employees share failed romance stories. 
Jim, Pam and Andy offer Kevin dating advice; Michael's Willy Wonka-inspired "golden ticket" idea doesn't go as planned. 
A new arrival yields a spectrum of reactions from the office; Kelly and Angela compete for Charles' attention. 
Upon quitting, Michael decides to start his own paper company and tries to poach employees and supplies from the office. 
The office vies for Charles' attention by pretending to be interested in soccer; Pam helps Michael get through the day. 
Pam and Ryan have a rough first day at Michael's new paper company; Andy and Dwight attempt to woo the new receptionist. 
Charles drives a wedge between Dwight and Michael; Jim convinces Andy he needs his unwavering emotional support. 
Confronted with declining financial stability, the Michael Scott Paper Company negotiates a buyout with Dunder Mifflin. 
The sales department doesn't approve of Ryan and Pam as new additions to the team; Toby assesses casual Friday outfits. 
Michael tries to entice the office to have fun with a cafe disco; Dwight and Phyllis share a bonding moment. 
Old flames rekindle at the annual company picnic; Pam showcases her all-star skills in a volleyball tournament. 
Season 6 
Michael spreads rumors about everyone in the office to feel included; Oscar helps Andy through an identity crisis. 
Andy helps Michael spy on a meeting between Jim and David Wallace; Toby and Dwight stake out in front of Darryl's house. 
Michael and Jim's conflicting management styles ignite resentment in the office when a tough decision needs to be made. 
Jim embarrasses Pam when he lets a secret slip at their rehearsal dinner; Dwight helps Michael find love at the wedding. 
Chaos ensues before the wedding as Michael and Dwight pursue flings with Pam's relatives and everyone parties too hard. 
Dwight and Andy help Michael handle a potential mafia threat; Erin's presumed jealousy disrupts Jim and Pam's honeymoon. 
Back from their honeymoon, Jim is caught in the middle when Michael's new relationship causes friction with Pam. 
The office mulls over jokes that should be off-limits after everyone mocks Michael's big splash at a client meeting. 
Michael makes an untimely decision at a birthday lunch for Pam's mom; Andy complicates Dwight's latest plot against Jim. 
As the officemates stress over the future of Dunder Mifflin and their jobs, Michael distracts the group with a game. 
Michael unwittingly exposes the company's executive-level spending habits, igniting anger among other employees. 
Michael's philanthropic efforts backfire; Erin seeks mentorship from Pam; Dwight vies for employee of the month. 
Michael overshadows Jim's efforts to boost morale and invites the warehouse up for a party; Oscar pursues a new crush. 
When an investment banker visits, Michael gives an extensive tour while highlighting the office's unique culture. 
The office's warm welcome to the Sabre corporate liaison shifts when they realize how the changes will impact them. 
The no-nonsense former pageant queen Sabre CEO forces a tough decision on Michael and Jim; Andy fails at pursuing Erin. 
The office steps up to help Pam endure her final hours before going into labor while Jim becomes increasingly anxious. 
Pam and Jim struggle to adjust to being new parents at the hospital; Michael tries to spark up another office romance. 
The office is excited about St. Patrick's Day; Michael struggles to accept a strictly professional relationship with Jo. 
Fed up with the special treatment the sales team is receiving, Michael takes extreme measures to hide their leads. 
Oscar organizes a happy hour for the office; Pam is excited to have a night out and brings a friend along for Michael. 
Andy's plan with Michael for Erin backfires; Oscar's parody video sparks everyone to do impersonations of each other. 
At their first joint sales pitch, Jim and Pam take opposing sides when Michael wants to flirt with the enigmatic client. 
The office suspects Donna is cheating on Michael, and Dwight investigates; Darryl decides to prank a concerned Andy. 
The office responds adversely to Michael dating a married woman; Dwight and Angela finalize the contract for a child. 
When faulty printer rumors leak, Jo interrogates employees to find the rat, while Michael tries to protect the office.