USA Insider Exclusive
Create a free profile to get unlimited access to exclusive show news, updates, and more!
Sign Up For Free to View
The Vanderpump Rules Reunion Trailer Watched 'Round the World
The highly anticipated reunion airs May 24th on Bravo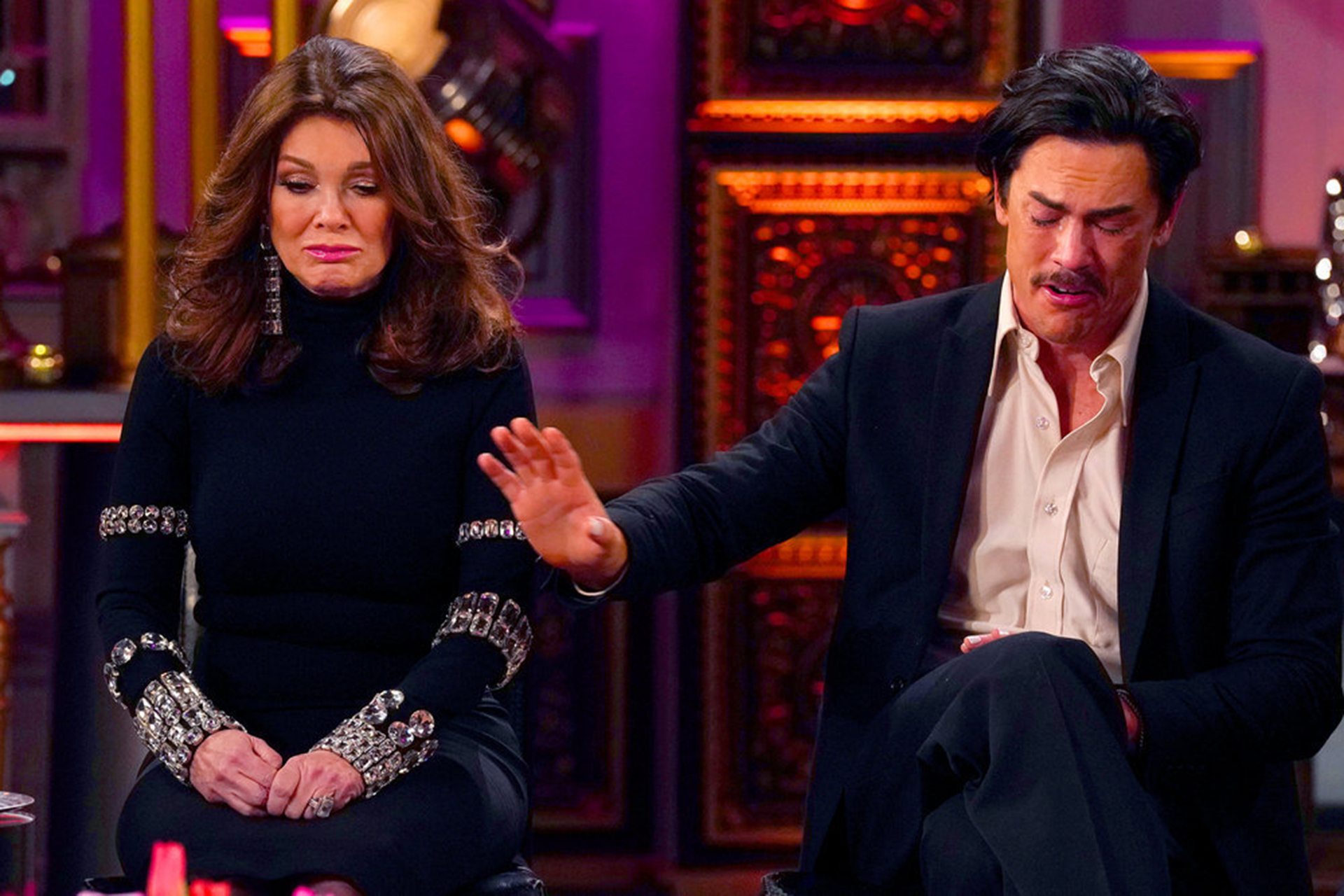 After recently gracing us with the Season 10 finale trailer, Bravo is once again feeding their Bravoholics with exciting news! Not only did they premiere the reunion trailer last week, but they also announced exclusive footage from the season is on its way! 
In the reunion trailer, we can see host Andy Cohen joined by Lisa Vanderpump Ariana Madix, James Kennedy, Katie Maloney, Lala Kent, Tom Sandoval, and Tom Schwartz to revisit the season's jaw-dropping scandal that rocked the friend group. Raquel Leviss and Scheana Shay also join the group separately to share their respective sides of the story (and restraining order). Ally Lewber, James Kennedy's girlfriend, also joins. 
As per usual, Andy Cohen does not shy away from hard-hitting questions. The trailer kicks off with him asking Raquel Leviss and Tom Sandoval, "How did this go from a one-night stand to a full relationship between the two of you?" All eyes are on Ariana Madix in her red-hot "revenge dress" as she tearfully shares, "I can't think of two worse people. I can't." 
As the trailer continues, the drama heats up. The fallout of Scandoval only appears to get messier as Andy continues to probe with questions. So much so that James Kennedy and Tom Sandoval appear to get out of their seats and into each other's faces. The group only needs an incentive to start asking their own questions as Lala Kent does when she doubles down on asking if Sandoval really loves Leviss or not. 
As Vanderpump Rules cast members attempt to make sense of this reunion, Bravoholics are left wondering the same thing they are: will the truth finally come out? 
In the upcoming weeks, Peacock will exclusively stream "Vanderpump Rules: Pumped Up Edition" featuring three extended episodes of the reunion PLUS a supersized version of "Secrets Revealed." In this unprecedented twist, fans will be able to watch uncensored and uncut never-before-seen footage! 
Check out the episode guide below for more information on the upcoming final episodes of Season 10 of Vanderpump Rules.
"#Scandoval" airs Wednesday, May 17 at 9:00 – 10: 15p ET/PT *Supersized Season Finale* 
Cameras pick back up after Ariana discovers that her boyfriend of nine years is having an affair with one of her best friends. Schwartz panics when the scandal threatens to upend their business. Katie accuses him of being complicit in hiding the truth. Raquel files for a restraining order against Scheana after an alleged altercation. Finally, Sandoval comes clean with another shocking secret. 
"Reunion Part 1" airs Wednesday, May 24 at 9:00 – 10:00p ET/PT 
In the explosive and larger-than-life Part 1 of the reunion, Andy Cohen sits down for intimate one-on-one interviews with Ariana, Tom, and Raquel to get to the bottom of the cheating scandal that shocked the world. James nearly comes to blows with Sandoval over the affair. Katie and Schwartz rehash the implosion of their divorce. Lala defends herself when the group calls attention to her stance on cheating. Lisa is left speechless when Ariana reveals her stance on her relationships in the group. Raquel watches the reunion from afar due to her restraining order against Scheana.
"Reunion Part 2" airs Wednesday, May 31 at 9:00 – 10:00p ET/PT 
The Season 10 reunion continues as Andy Cohen presses Scheana for details of the altercation that led to Raquel's restraining order. James' girlfriend, Ally, takes the stage to discuss James' temper and the future of their relationship. The group debates the origins of the infamous open-relationship rumor. Scheana gives up her spot for Raquel, who must face the group for the first time since news of the affair became public. 
"Reunion Part 3" airs Wednesday, June 7 at 9:00 – 10:15p ET/PT *Supersized Episode* 
The reunion comes to an electrifying close as Raquel faces her former friends. The group revisits the disastrous girls' trip to Las Vegas and Lake Havasu. They discuss Tom Schwartz's alleged role in covering up the affair. Ariana breaks down while discussing the betrayal from her ex-boyfriend and ex-best friend. Andy questions Sandoval and Raquel about the status of their relationship and pushes them to reveal if they're in love. 
"Secrets Revealed" airs Wednesday, June 14 at 9:00 – 10:00p ET/PT 
In one of the most shocking "Secrets Revealed" episodes in Vanderpump Rules history, fans will get a deeper glimpse into the fallout of the group post-#Scandoval. Never-before-seen moments from the summer will shed a new light on glaring secrets that have since been revealed. Plus, fans will see bonus footage from months before Season 10 began as Tom and Katie face the reality of their divorce while still living together.