USA Insider Exclusive
Create a free profile to get unlimited access to exclusive show news, updates, and more!
Sign Up For Free to View
Celebrate 25 Years of That '70s Show on Peacock
Hello, Wisconsin! Travel back to the Point Place basement, where it all began.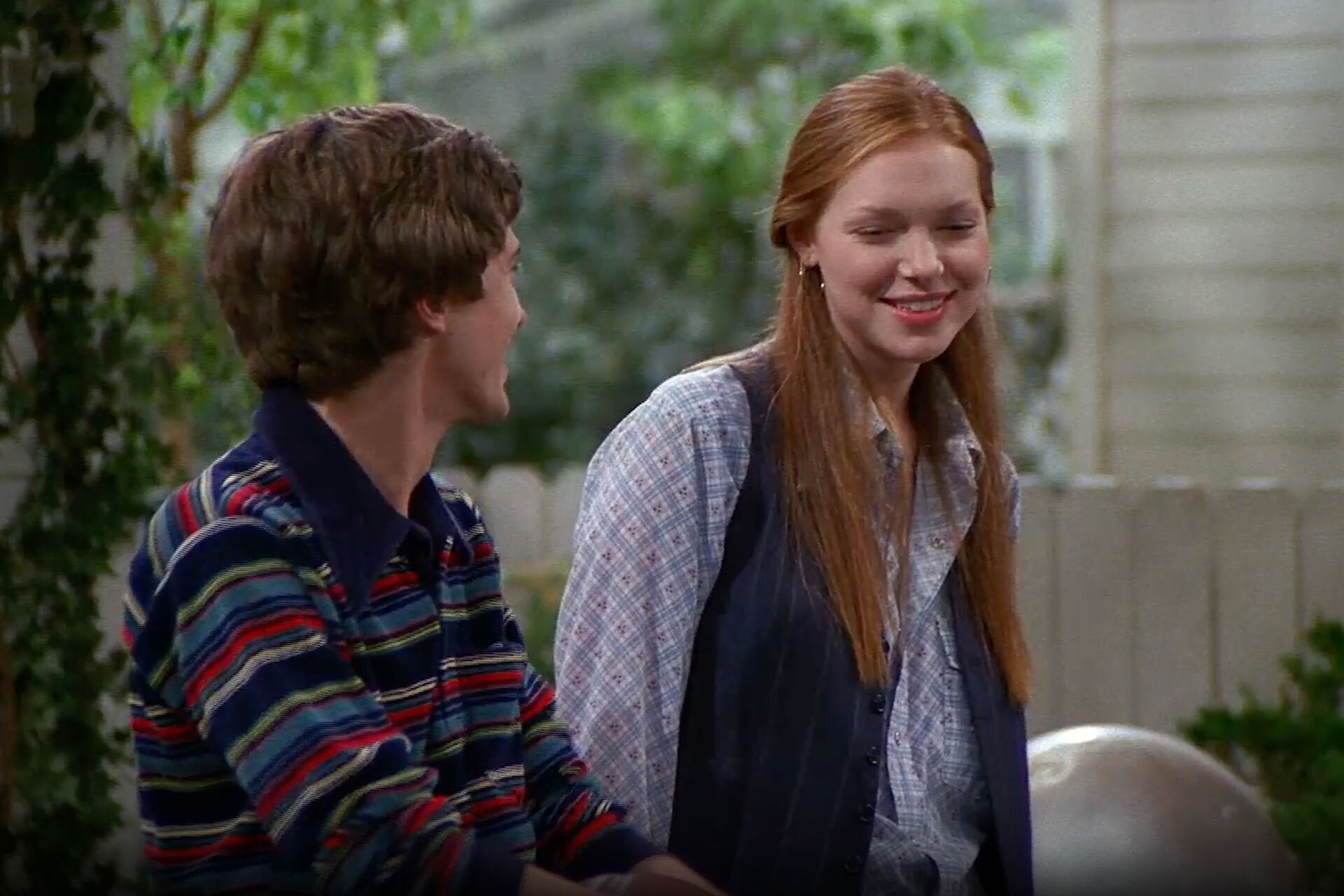 That '70s Show first aired in August 1998 and ran until May 2006. The coming-of-age sitcom revolves around a group of eclectic teens as they navigate life's mishaps in 1970s Wisconsin. This show served as the launch pad for tons of emerging talent, as well as giving fans plenty of relatable moments, giggles, and catchphrases to use for years to come. Who could forget Kelso's hilarious use of "BURN" or Fez's sassy "I said, 'good day!'" Most of the cast would go on to become household names gracing our screens, both large and small: Ashton Kutcher, Mila Kunis, Topher Grace, and Laura Prepon to name a few.  
Relive Your Favorite Moments or Stream for the First Time  
Are you ready to relive your favorite moments from That 70s Show? Then, pop on your bell bottoms, light a "J," and prepare for some laughs. With 200 episodes that stretch across eight seasons, you can start your descent into the sea of nostalgia — or you can take some episode recommendations from your buddies over at Peacock. Here are some of our favorite episodes from That '70s Show:  
"Panties! Glorious panties!" In one of the most gut-busting episodes of the series, each storyline has its own set of hilarious and quotable lines. When Eric's new lab partner takes an interest in him, he lets Donna know immediately; her lack of jealousy leaves him concerned. Donna's tune quickly changes once she finds a mysterious pair of panties in the back of his Vista Cruiser. "Eric's Panties" is riddled with misunderstandings that leave Tater Nuts Kelso and Fez worshiping the ground that Eric walks on. Red's new diet gives him more reason to lean into his grumpy old-man persona. This episode highlights each character's comedic strengths.  
Secrets are revealed on this playfully spooky That '70s Show episode. On October 31, the gang heads over to their now burned-down elementary school. They come across their old permeant records, and what they find sends shivers down their spines. From small reveals like embarrassing middle names to potentially relationship-ending facts, the gang is in for some eye-opening fun. The B-story gives us a glimpse into Kitty and Red's past; the Halloween during Kitty's first pregnancy and the discovery of Red's favorite word, dumb a*s. And who could forget Fez's superhero costume? This episode is intentionally more playful and melodramatic than the rest.  
Ever wished to go to a nice restaurant, order whatever you wanted, and then — just before the bill comes — make a run for the door? If so, stream this episode instead. Kelso decides to take his closest friends out for a nice dinner after receiving $100 from his grandmother, but there's a catch: he never intended on spending said $100  on that dinner. Instead, he expects his friends to join him in a classic game of Dine and Dash. What follows is a hilarious game of prison break, as each character tests their morality, with the gang deciding to ditch the bill, deciding never to return.  
Before there was real-life couple, Ashton Kutcher, and Mila Kunis, we had the fictional relationship between Jackie and Kelso. This on-again, off-again couple is a quintessential part of what makes That '70s Show great. Beginning with Jackie's shallow approach to dating Kelso, to the pair opening to each other and developing a real bond, this duo made for some hilarious must-stream moments. Watch to see how this couple evolves.  
Season 2 kicks off strong with a garage sale that includes brownies, because why not? Some of the brownies have an extra special ingredient (three guesses to figure out what it is), which leads Eric and Donna's parents to dip into the wrong batch. What follows is pure comedic gold. A zonked Red ends up selling Eric's car, forcing the gang on a wild goose chase in pursuit of the buyer. This episode's brilliance lies in its detour from the norm, with Kitty and Red partaking in the iconic "circle" for a change, leaving the kids in their usual parental roles. 
Let's admit one of the main reasons we love That '70s Show: Eric and Donna's love story. From childhood best friends to the relationship that became the heart of the show. Eric and Donna will always have a special place in our hearts. In this episode Kitty decides to throw Eric a surprise party. Donna is panicked about what to get him for a gift after Jackie tells her that the gift should be a sign of her wanting to be more than friends.  
Fuel your nostalgic needs by streaming That '70s Show, only on Peacock.