USA Insider Exclusive
Create a free profile to get unlimited access to exclusive show news, updates, and more!
Sign Up For Free to View
Here's What Happened at The Real Housewives of Miami Reunion Part 3
It was a finale to remember for the ladies of The Real Housewives of Miami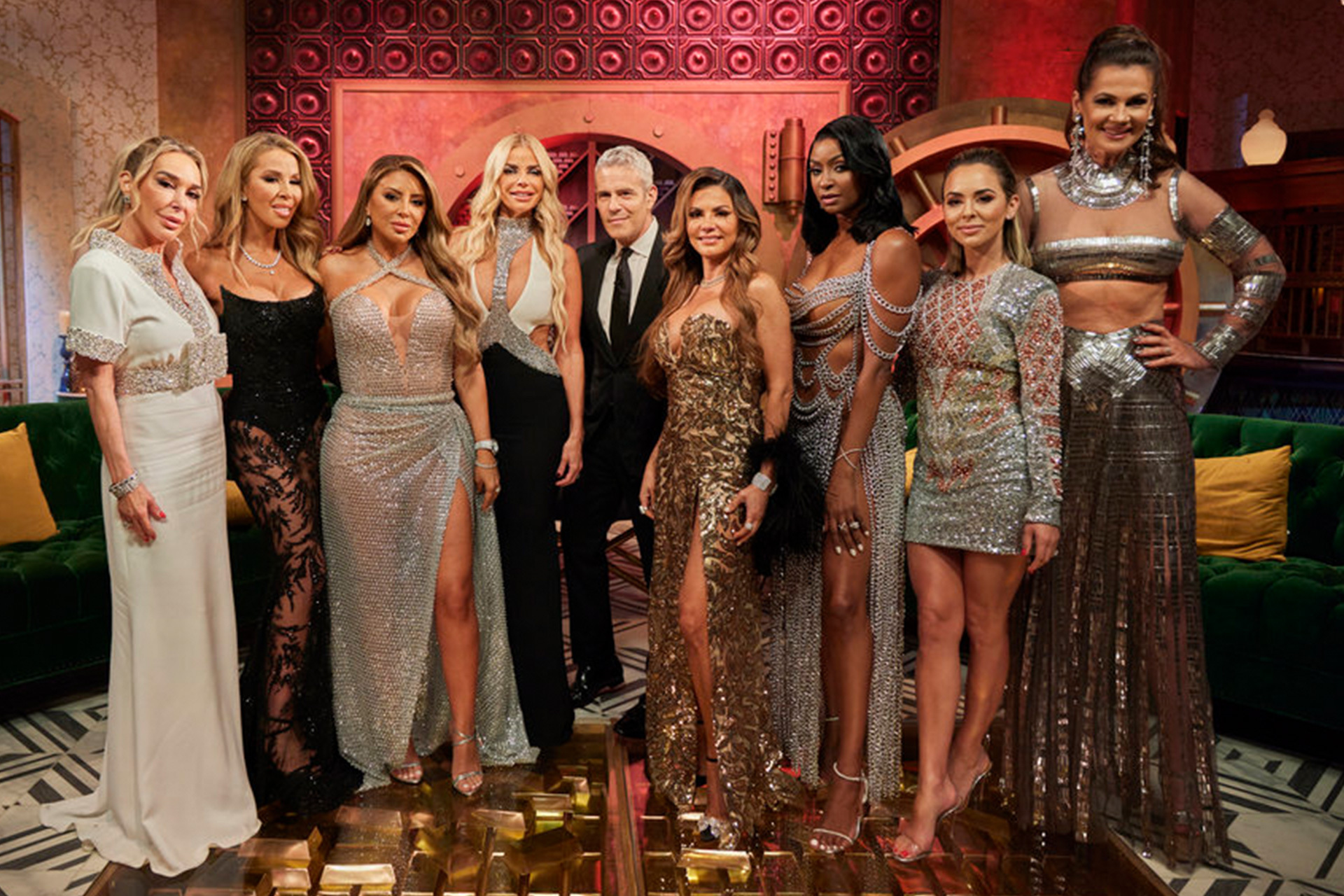 The Real Housewives of Miami Reunion concluded this week, and while there were no shortage of emotionally charged moments, not all hope was lost for the relationships we saw unravel during a turbulent and ever-entertaining Season 5.
Lisa and Lenny's Tension Often Stemmed from Their House Parties  
Picking up where we left off at the end of Part 2, Lisa didn't seem all that shocked by Kiki's revelation about Lenny, since Lisa had heard rumors for years but always thought they were coming from a place of jealousy. Known for their extravagant house parties with scantily clad women in attendance, Lisa said this was a frequent point of contention with her husband. When asked what role her castmates have played in supporting her, Lisa said she didn't know how she could have gotten through this dark time without them. Remaining hopeful for the future, Lisa said she would love to be married again and ultimately wants to find her forever person and life partner.  
Guerdy is at the Top of Her Business and Finding Work-Life Balance 
As a top wedding planner in Miami (and the world), Guerdy was recognized as one of Bride Magazine's Best Wedding Planners of 2022, and shared that she was recently named in the top 100 global planners. We witnessed a vulnerable moment this season between Guerdy and her husband Russell, usually quiet and reserved, who confided in Guerdy that he was feeling disconnected from her, even when she's at home where she remains caught up in her work. The conversation resonated with Guerdy, who got emotional saying that she never wants to lose Russell and, in an effort to be more present for her family, has since changed her entire business model. She now maxes out at planning five weddings a year compared to her usual 15 (quality over quantity), making more time for regular one-on-one date nights with her two sons and husband. 
Adriana, Alexia and Marysol's Friendship is on the Fritz 
They say three's a crowd, which may be proving true in the rocky friendship of three of the Miami OG's, Adriana, Alexia, and Marysol. While Alexia and Marysol remain thick as thieves, Adriana has been on the outs with her former friends. During the season Adriana revealed that an ex-boyfriend of Marysol's had asked her out. To prove her loyalty, Adriana declined the request, but realized she had shared too much and apologized to Marysol at the reunion for repeating what Marysol's ex had said about her. Alexia's qualms with Adriana came to a head during their trip to the Bahamas, when Adriana analogized her ankle injury to Frankie's accident. While she later regretted what she said and issued an apology via text, Alexia didn't feel the words were enough. Adriana apologized again on the reunion stage, saying that she was trying to relate to Alexia, not talk about her son. "I've always respected you, admired your resilience, and I love Frankie." Julia implored the ladies to have empathy for Adriana, saying that the one thing that separates her from the group is that Adriana is the only single one and has been in a dark place lately.  
We learn the contents of the mysterious letter 
In a sharp turn from the seriousness of the conversation, Adriana got up to give Andy a letter she claimed to have received from someone who was abused by Marysol, which turned out to be a satire of sorts written by Adriana (to Adriana) from Marysol's liver. Caught between giggles and grimaces, Andy asked Adriana if it was really the time for that joke given the state of their friendship and how the conversation had been going. "I was going to ask where you go from here, but I think the letter just put the kibosh on any talk of the future," he said. A potential new relic for the WWHL Clubhouse, Andy said about the letter "that was horrible, but I am keeping this." 
Alexia and Her Son Frankie Are Working With the de Moya Foundation  
Turning back to more serious matters, Alexia reflected on working with the de Moya Foundation, a non-profit that helps young adults with unique abilities to find employment and be as independent as possible. Alexia credited Bravo for the foundation reaching out to her after seeing her and Frankie on the show. With emotion that permeated the room, Andy said that he was struck by Frankie sharing that he is afraid to get an Uber for himself. Alexia broke down in tears at this, saying that she tries to be strong despite the challenges she faces every day, and that Frankie's accident has been the hardest thing she's been through.  
Healing Friendships and Final Thoughts 
Through the tears, yelling, laughter, and everything in between, the reunion wrapped on a high note. Adriana, Alexia, and Marysol see hope for the future of their friendship, the latter two wanting to help Adriana through her difficult time and to be there to help her see the beauty in her life. They agreed to focus on the good and not rehash the past. "The two of you were blessings in my life as my friends, and I want your friendship back," Adriana said through tears. Prompted by Guerdy, Larsa and Nicole also agreed that they are even for all that went down this season, and hopefully can start fresh.  
Things concluded with the ladies sharing their most positive takeaways of the season. Julia summed things up well, saying how things have been put in perspective to show her how precious life is and to not sweat the small things. "Miracles happen. Even what's happening tonight, we never thought we'd have a happy ending, but we did." With Bahama Mamas in hand, Larsa led the group in a toast to good energy, love and continuing their journey, dancing it out to Adriana's song, FYAH.  

Catch The Real Housewives of Miami on Peacock