USA Insider Exclusive
Create a free profile to get unlimited access to exclusive show news, updates, and more!
Sign Up For Free to View
15 BravoCon Moments That Happened in Vegas But Definitely Shouldn't Stay in Vegas
No shirt, no shoes, so much fan service.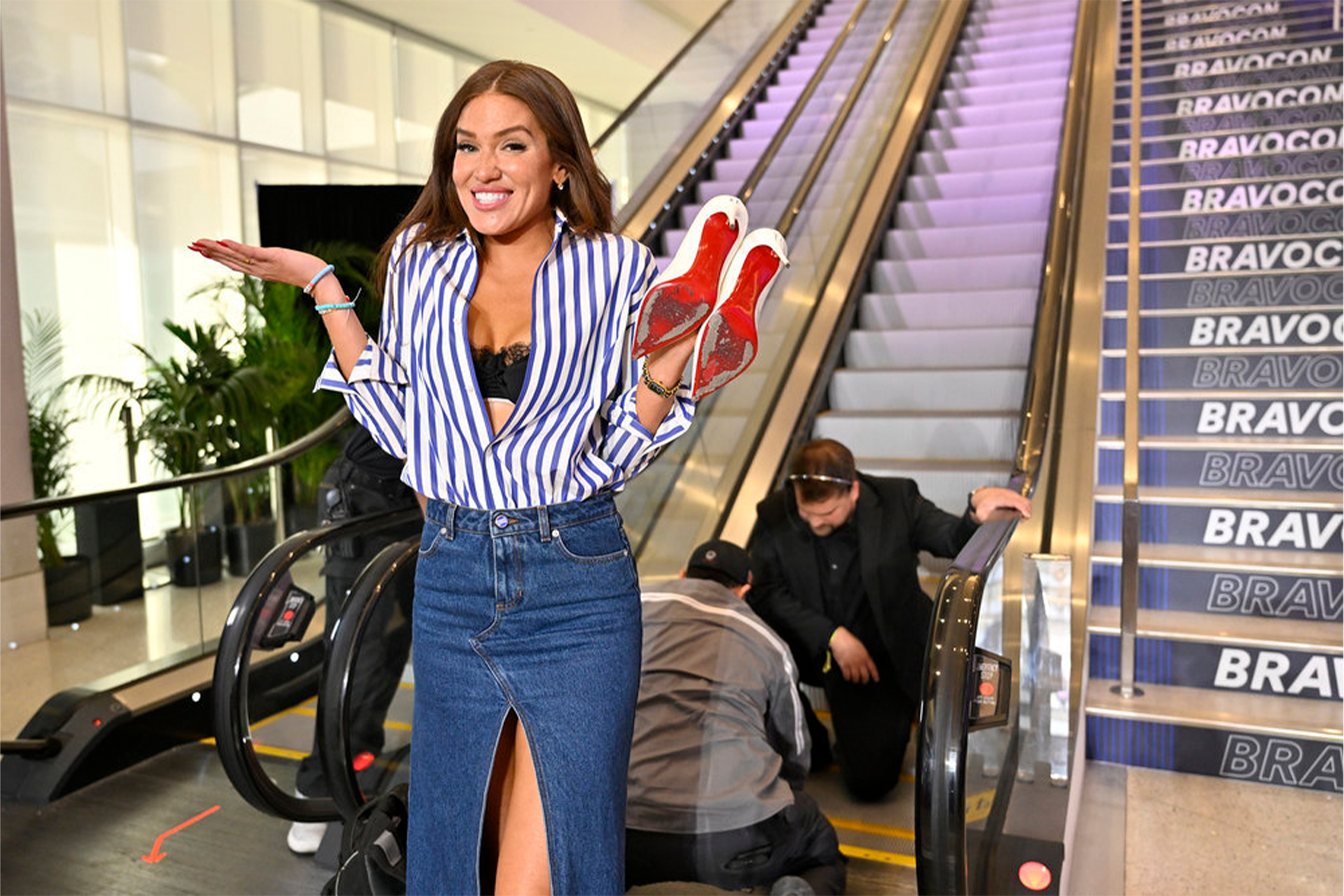 This year, Bravo made it nice like never before with its third-annual BravoCon at Caesars Forum in Las Vegas. If you weren't lucky enough to witness all of the jaw-dropping revelations, announcements, and shirtless thrusting in person, there's no need to feel all, like, uncool. Below, we've rounded up some of the must-see moments — as well as several panels (now available to stream in full on Peacock's BravoCon Hub) — from the action-packed weekend.
 
1. Brynn Whitfield's Louboutins broke the escalator.

There were many show-stopping moments at BravoCon, but only one literally stopped the show. While making her grand entrance down the escalator for BravoCon's "Ladies Night" panel at the Live Stage, Real Housewives of New York City's Brynn Whitfield got caught on the last step, leaving her shoeless ("not homeless!") — and the people of the internet with some spectacular meme fodder. I guess you could say even Christian Louboutin makes mistakes?

Stream The Real Housewives of New York City Season 14. 
 
2. ...and Kelly Bensimon learned from her mistake.

By Day 3, word of the escalator incident had struck fear into the hearts of all stiletto-wearing Bravolebrities. Luckily, Scary Island-survivor Kelly Bensimon was able to find a workaround for her "Bravo Throwbacks" panel entrance.
 
3. The Real Housewives Ultimate Girls Trip: RHONY Legacy trailer premiered before an enthusiastic Gold Stage audience.

The world's very first look at the hotly anticipated romp through St. Barths came during the "UGT Down Memory Lane" panel. A word to the wise: Eagles don't fly with pigeons, okay? So go get your bread crumbs and get back to me tomorrow!

Stream the full "Ultimate Girls Trip Down Memory Lane" panel ahead of the Real Housewives Ultimate Girls Trip: RHONY premiere Dec 14 on Peacock.
4. Andy Cohen announced that Peacock will stream uncensored versions of all future Bravo reunions.

Following the success of Below Deck Sailing Yacht, The Real Housewives of Atlanta, The Real Housewives of New Jersey, The Real Housewives of New York City, The Real Housewives of Orange County, and Vanderpump Rules uncensored reunions, Cohen shared during the "Ask Andy" panel that Peacock and Bravo would be partnering to bring us every moment of unfiltered reunion drama moving forward.
5. Meanwhile, Jeff Lewis moderated the "shadiest" Q&A of the weekend.

At that same panel Lewis grilled Cohen about his dating life, favorite Housewives, the upcoming Season 14 of RHONJ, and... which of the two Las Vegas Bravolebrity hotels he was staying at. (Spoiler: He opted out of both. "It was a decision I made," Cohen said) 

Stream The Real Housewives of New Jersey. 
6. Andy performed a quippy, star-studded opening number at The Bravos.

If you love our network shows and every moment makes you drool, we say... "Bravo!" We also say... it's time to fire up the Peacock app because we now have the extended version of the awards telecast, featuring several cut-for-time categories, montages, and a "Squash the Beef" available to stream. 

Stream The Bravos (Extended Version).
7. Vicki Gunvalson got choked up accepting the first-ever Wifetime Achievement Award.
In celebration of her 18 years on the network, Orange County Housewives Jo De La Rosa, Lauri Peterson, Alexis Bellino, and Gretchen Rossi presented Gunvalson the inaugural award alongside an emotional career montage.

Stream The Bravos (Extended Version).
 
8. James Kennedy challenged Tom Sandoval to a push-up contest.
It was shirtless — and far from the only shirtless moment of the weekend. (See also: Captain Jason's "take it off" spin and the RHONJ "Magic Mike tease" later in this post.)

Stream the full "Sur'Ving up the Latest with Vanderpump Rules" panel.
 
9. Vanderpump Rules fans put Sandoval in the hotel seat.
Some of the most brutal questions of the weekend came from the fans. And that was especially true for Vanderpump, with one fan asking Sandoval "Why are you still here? Why not go away?"

Stream the full "Sur'Ving up the Latest with Vanderpump Rules" panel.
 
10. The cast of Magic Mike Live gave the RHONJ boys some dancing lessons.

Certainly most BravoCon attendees had an idea of what they'd signed themselves up for when they joined this panel titled "Magic Men of Jersey," but few could have imagined it playing out quite like this. Frank Catania, Joe Benigno, and Joe Gorga shocked audience members with a steamy strip tease, alongside Jerry O'Connell, that must be seen to be believed.
Stream The Real Housewives of New Jersey. 
 
11. Erika Jayne led a "Pat the Puss" tutorial.

Don't talk to me until I've had my coffee? More like don't talk to me until I've patted my puss. This early-bird tutorial led by Jayne and her crew proved that it's never too early in the day to drop it down. Jayne also announced during the "Pat the Puss" tutorial that fans will be getting a two-part Bravo documentary Erika Jayne: Bet It All on Blonde, which will center on the challenging road to the opening night of her Las Vegas. (More info here.) 
12. Guerdy Abraira shared that she's officially cancer-free. 

During the Danny Pellegrino-moderated Miami panel, the RHOM housewife announced that she was about to ring the radiation bell. "I'm very excited, and I'm so blessed, and I literally wake up every morning counting my blessings and making it count," Abraira said. 

Stream The Real Housewives of Miami. 
 
13. The Housewives struggled to remember their own taglines.
If it ends in "this town"? It's probably Kyle Richards'. (Elsewhere, Richards joined the RHOBH ladies for a "Livin' in Beverly Hills" panel, which was filled with emotional life updates.)
14. The Summer House cast reunited, with some high-highs and low-lows.

The rose: Andrea Denver broke the news that he's engaged to Lexi Sundin. The thorn: We learned Lindsay Hubbard and Carl Radke are no longer speaking after their split. 

Stream the full "The Summer House Always Wins" panel. 
15. Bravolebrities took the stage to give their ultimate business pitches.

Streamers at home can purchase the products featured via a QR code. An "I'm disengaging" hoodie pitched by Meredith Marks? We're engaging.
Stream the full "Bravolebrity Shop-off" panel.

Stream full panels, The Bravos, Best of Bravo recaps, and more on Peacock.