USA Insider Exclusive
Create a free profile to get unlimited access to exclusive show news, updates, and more!
Sign Up For Free to View
You're Cordially Invited to a Season of Hallmark Weddings This June
Summer love is shining on through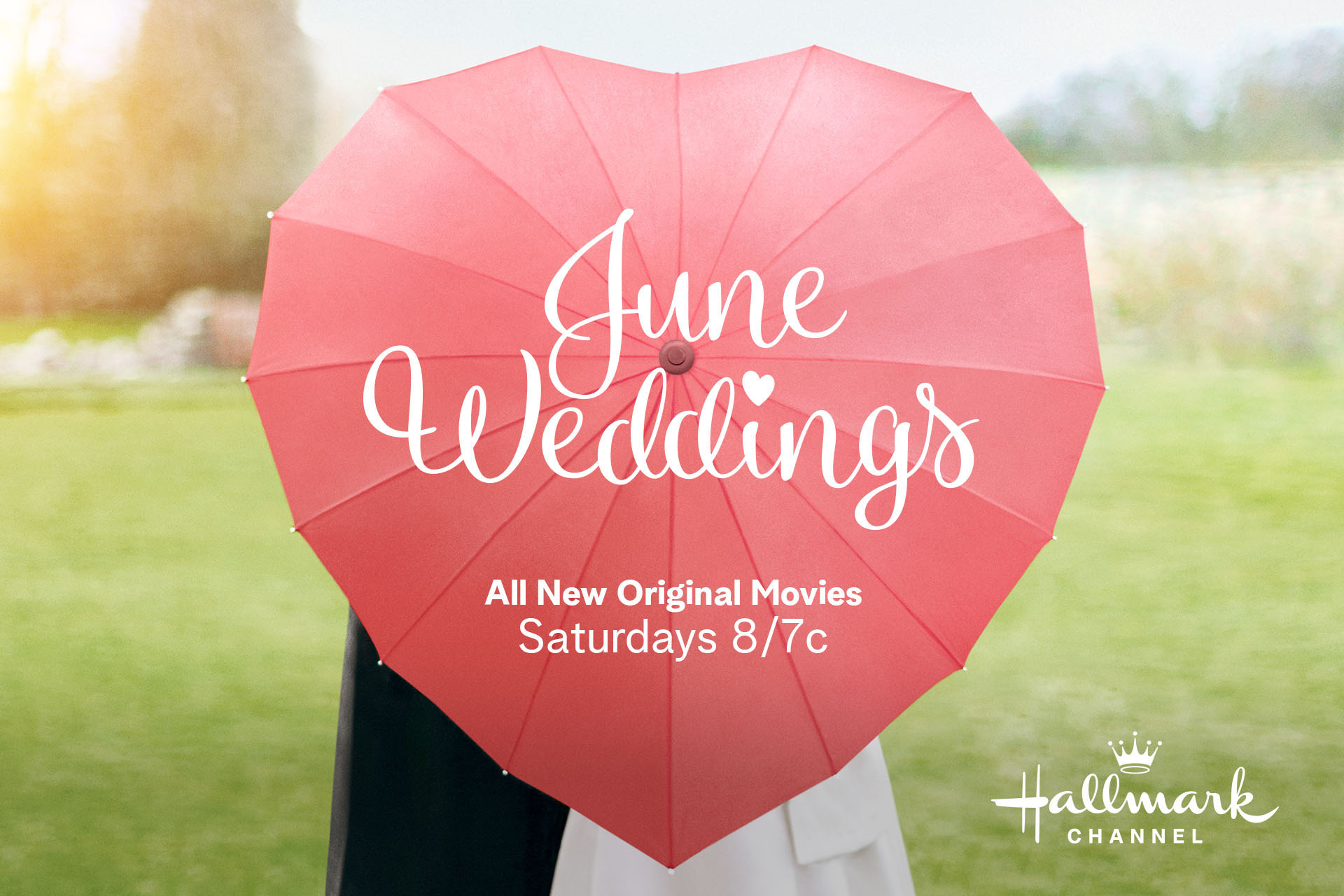 Can you hear the bells? The winds of summer are rich with wedding chimes as brides and grooms across the globe prepare for those coveted June marriages. Whether you're eager to tie the knot or gleefully enjoying being a guest, Hallmark's celebrating the sunny season of love with four brand new original wedding stories featuring romances from all around the world. For those who prefer their love stories with a drop of danger then prepare for two daring new original mystery series from Hallmark Movies & Mysteries, including the long-awaited prequel to beloved long-running series Aurora Teagarden Mysteries.  Here are all series headed to Hallmark and Hallmark Movies & Mysteries this June.  
PREMIERING ON HALLMARK CHANNEL
WEDDING SEASON
Saturday, June 3 (8p ET/PT) 
Starring: Stephanie Bennett, Casey Deidrick 
Trish (Bennett) is a journalist who is on back-to-back bridesmaid duty for her three best friends. When her date is unable to join, she pairs up with photographer Ryan (Deidrick), the brother of her best friend. 
LOVE'S GREEK TO ME
Saturday, June 10 (8p ET/PT) 
Starring: Torrey DeVitto, Giannis Tsmitselis, Marina Sirtis 
When Ilana (DeVitto) travels to Santorini with her Greek boyfriend Mike (Tsimitselis) for his sister Alex's (Katerina Konstas) wedding, she's thrilled to be asked to be her American Maid of Honor.  Mike surprises Ilana by proposing, leaving Ilana caught in the whirlwind created by his well-meaning and overly enthusiastic mother Athena (Sirtis).
THE WEDDING CONTRACT 
Saturday, June 17 (8p ET/PT) 
Starring: Becca Tobin, Jake Epstein 
Rebecca (Tobin), a teacher, and Adam (Epstein), an ad executive are excited to plan their Jewish wedding, but their wedding and future are put into jeopardy whenAdam lands a new ad campaign, and their mothers meet for the first time. 
MAKE ME A MATCH 
Saturday, June 24 (8p ET/PT) 
Starring: Rushi Kota, Eva Bourne 
Vivi (Bourne), an optimistic woman with a substandard romantic history, works at a data-driven matchmaking app. Once she   discovers that the success rate for matches at her company is low, she hires Raina (Rekha Sharma, "Battlestar Galactica"), an Indian matchmaker, to provide advice on how to improve their numbers. As they embark on this matchmaking journey, Vivi meets Raina's spontaneous son, Bhumesh (Kota), and questions whether finding love is something one must take control of or let naturally come to them. 
PREMIERING ON HALLMARK MOVIES & MYSTERIES 
THE DANCING DETECTIVE: A DEADLY TANGO
Filmed entirely on location in Malta 
Friday, June 2 (9p ET/PT) 
Starring: Lacey Chabert, Will Kemp 
Sparks fly when a no-nonsense detective (Chabert) must reluctantly team up with a charismatic British dance star (Kemp) in order to solve a murder, literally one step at a time, at a stunning luxury resort in Malta! 
AURORA TEAGARDEN MYSTERIES: SOMETHING NEW
Friday, June 9 (9p ET/PT)
Starring: Skyler Samuels, Evan Roderick, Marilu Henner 
Aurora Teagarden (Samuels) is back home in Lawrenceton post-college near her mother, Aida (Henner). Working as a teacher's assistant in a crime fiction class, Aurora is struggling to settle on a thesis for her post-graduate degree.  To support her schooling and life, Aurora also waitresses at the local diner at night, where she shares her love of researching true crime with her friend Sally and police officer Arthur (Roderick).  When Sally's fiancé doesn't show up at their wedding rehearsal, Maid of Honor Aurora gets Arthur to help her search for him.  When they discover a body, everyone assumes it is Sally's tardy groom, but when it turns out to be someone else, Sally's fiancé becomes the main suspect.