USA Insider Exclusive
Create a free profile to get unlimited access to exclusive show news, updates, and more!
Sign Up For Free to View
Dick Van Dyke on Days of our Lives
The trailblazing soap gains a legendary star.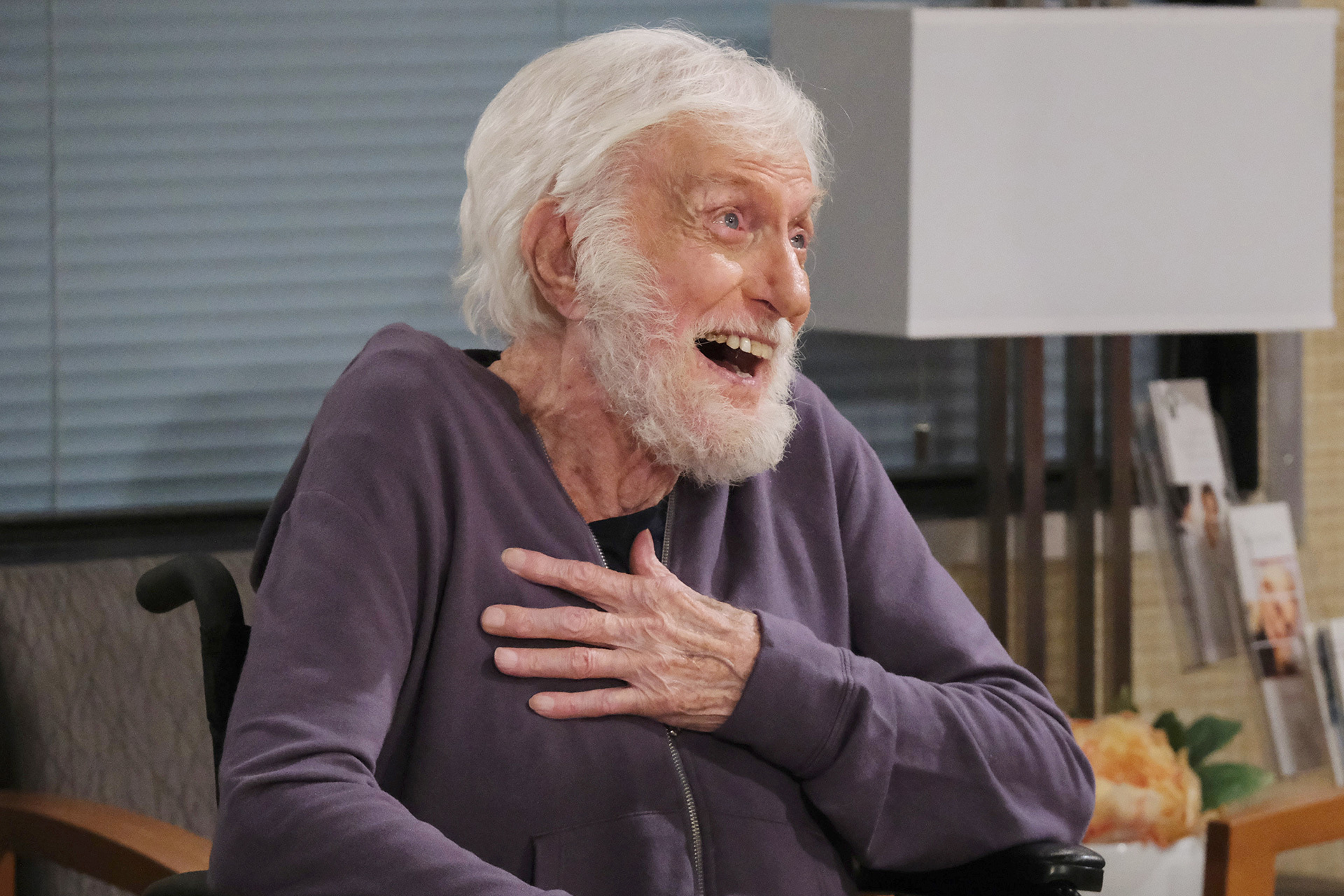 With a career spanning over six decades, comedy legend Dick Van Dyke has graced our screens both large and small — from his titular television sitcom, The Dick Van Dyke Show, to starring as the lead in some of our most beloved films: Bye Bye Birdie, Mary Poppins, and Chitty Chitty Bang Bang. He's garnered countless awards, including a Golden Globe, a Tony, a Grammy, and five Emmys to be exact. Now, he prepares to take on a whole new arena: daytime soaps. That's right, at 97 years old, Dick Van Dyke is set to make his debut on Days of our Lives today, but before we talk about that, let's get you caught up on the latest Days drama: 
Here's What You Missed on Days: 
As Sarah prepares to tell Xander that he is the father of her baby, she feels a sharp pain. She then rushes to the hospital to be checked out by Kayla. Shawn loses it when Belle and Brady work together to get him into a recovery meeting. This sends Shawn down a dark path as he tells Marlena that he's quitting therapy. Rex visits Kate, which puts her in a state of bliss, but things quickly shift as he reveals he and Sarah are not only engaged but expecting a child together. Kate confides in Roman, admitting she believes that Sarah will break Rex's heart yet again. Chloe is shocked to see Phillip at her doorstep.  
Shawn has hit rock-bottom; Belle frantically urges Marlena to find and help her husband. As Rafe and Jada's connection grows, Paulina informs them that she's working to change Salem PD's dating policy. Still without memory of the life he and Paulina shared, Steve advises Abe to spend quality time with Paulina in hopes that it'll trigger a memory or help him fall in love all over again. Brady learns two things: Phillip is alive and he's responsible for framing him for murder.  
Gabi and Stefan split up with a shared goal of finding out what Kristen and Dimitri are up to. Gabi confronts Elliott, while Stefan attempts to play a game with Rachel. Dimitri returns home with Gwen and — once he's alone with Kristen — she lets him know that Elliott needs to meet with him to determine the validity of their relationship. Leo and Sonny have a run-in that doesn't leave the latter happy. Alex tells Stephanie he plans to skip the meeting with Yuri and confesses feeling guilty since Victor's death. Chad, all too familiar with the feeling, offers some advice.  
Dimitri has reservations about Leo's plan to pose as Gwen to trick the lawyer into believing the marriage is real. Leo eventually convinces him that there is no other option. Gabi and Stefan are determined to learn the name of the woman Dimitri is sleeping with. Kristen almost reveals to Gwen that Dimitri only married her for his own financial gain.  
Dick Van Dyke on Days  
In this special four-part story arc, Dick Van Dyke will join the Days cast. Van Dyke's entry into Salem comes through his budding friendship with IRL gym buddy, Drake Hogestyn who plays John Black on Days. Van Dyke plays a man of mystery, an amnesiac. Marlena (Diedre Hall) is tasked with helping Van Dyke's character bridge the gaps in his memory. To achieve this, she calls on John Black and Steve Johnson (Stephen Nichols) for help. Between memory exercises, there may be a musical number or two; you'll just have to stream to find out. Dick Van Dyke will appear in four episodes throughout September: Sept 1, Sept 4, Sept 8, and Sept 14. As an added treat, Van Dyke's wife, Arlene Silver will appear beside him on the Sept 1 episode, streaming now!
Stream Days of our Lives and watch Dick Van Dyke in a special set of episodes, exclusively on Peacock.