USA Insider Exclusive
Create a free profile to get unlimited access to exclusive show news, updates, and more!
Sign Up For Free to View
9 Things To Know Before Yellowstone Season 5
Caught up on Yellowstone? Here's a recap before the latest season drops on May 25.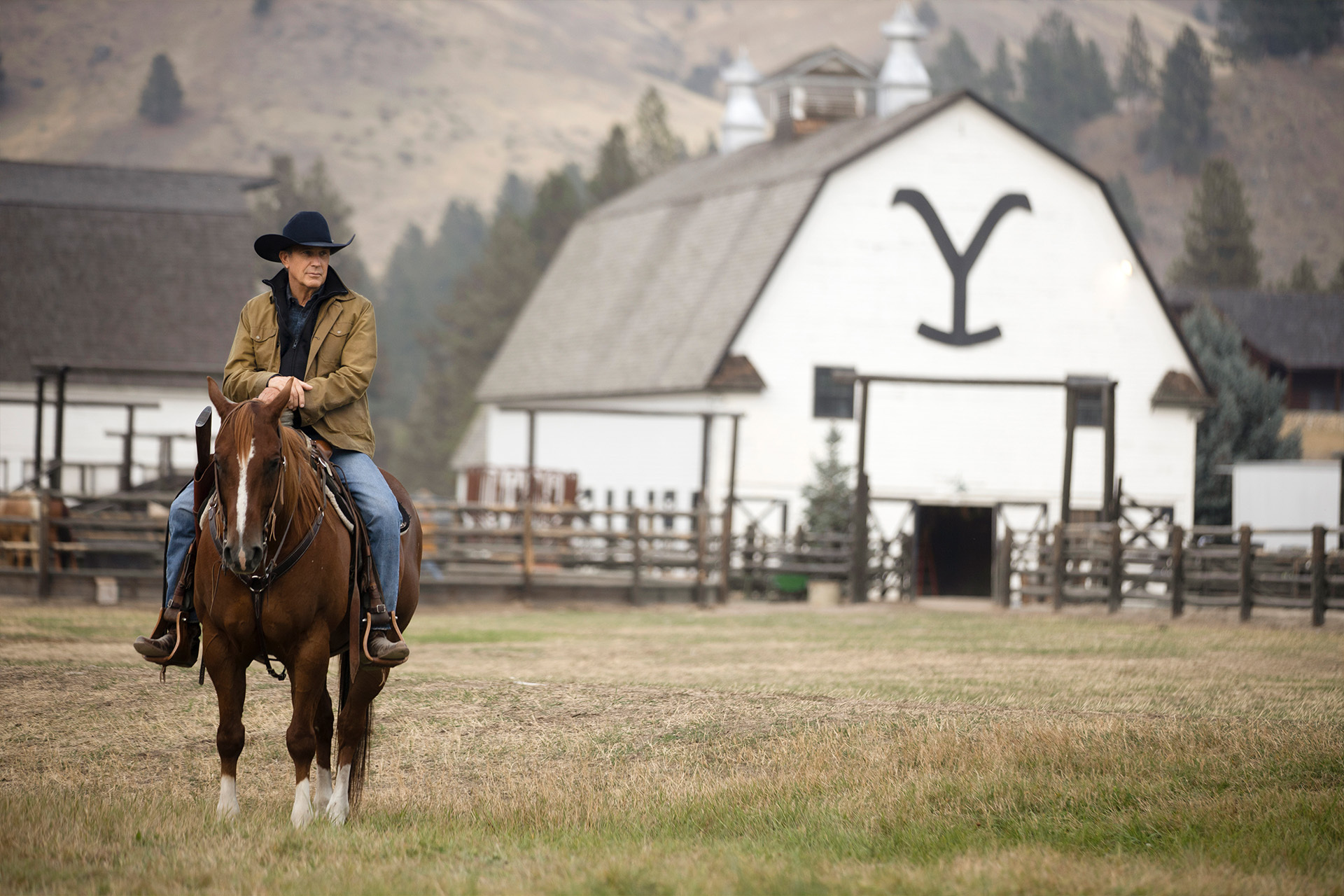 We're just days away from streaming the latest season of Yellowstone, including a whopping two-hour premiere. Before you dive into Season 5, here's a refresher of all the major plot points from the last season. Be sure to watch Season 4 to avoid spoilers ahead!  
Who Tried to Kill John Dutton? 
It's an all-out attack on the Duttons and John gets the worst of it. So much so, that when Kayce asks where his father had been shot, Rip can only say, "Everywhere." After a long, painful recovery, John is home again and seeking retribution for the attack. Kayce manages to wipe out the militia hitmen who were sent to shoot them up, but John is dissatisfied – they still have to find the sender. Beth suspects Jamie is behind it and, in a way, he is.  
Who's the Biggest Threat to the Dutton Ranch? 
Caroline Warner, head of Market Equities, is the latest businessperson to come for Yellowstone. She makes a proposal to Chairman Rainwater: she will fund his new casino if he gets out of the way of her building a new airport on Dutton land. Warner hires Beth to help her find Market Equities' next big business deal, but Beth has a different idea: she's going to run it into the ground. When Warner realizes that Beth is trying to destroy her, the mogul takes it personally and pledges to build a bathroom where Beth's house is. 
Jimmy Has a New Girlfriend 
Oh, Jimmy. He just can't seem to stay off horses without breaking his neck. John finally sends him away to a ranch in Texas, where he will represent Yellowstone while training their new racehorses. It's a form of punishment for Jimmy, but also recovery. Jimmy finds love with Emily, a young veterinarian, and they get engaged and head back to Montana. Jimmy's ex, Mia, doesn't take it well. She slugs Jimmy, but Emily jumps in to defend her man. When Mia leaves, John shares that he's impressed with how Jimmy has changed at Four Sixes and relieves him of his duty at Yellowstone Dutton Ranch – even though he'll always have a place there. And while "cowboys don't say goodbye," it's a heartfelt 'see you later' as Jimmy and Emily depart Yellowstone. 
Rip Settles Lloyd and Walker's Beef  
Lloyd can't seem to get over the sting of his barrel-racer girlfriend leaving him for cowboy-crooner Walker, and his fury culminates in smashing Walker's guitar and stabbing him in the gut. As every Yellowstone rancher knows, there is no fighting allowed — except for when Rip kicks Lloyd's ass. Meanwhile, John decides that women are no longer allowed in the bunkhouse, which means Teeter also has to go. She objects — after all, she wears the Yellowstone brand too. Does it mean nothing?  
John's Summer Fling 
It's an unusual pairing — a patriarchal ranch owner and a young activist — but somehow John gets involved with Summer Higgins, who comes to Yellowstone for a Free Earth protest. She gets arrested and John bails her out, sparking the unlikely romance, but when she's arrested a second time on federal property, the charges are bigger, the sentence is longer, and John can't help her this time. When he finds out that Beth is behind the second arrest in an effort to stop Market Equities, he's conflicted. Beth tells him, "There's no morality here, Dad. None. There is, 'Keep the kingdom,' or there is, 'Lose the kingdom.'" 
Who Will Be the Next Governor of Montana? 
Despite Jamie's aspirations to take the Governor's seat — and hoping to be an even more appealing candidate now that he's a family man with a baby — Governor Perry endorses a different Dutton for the job: John.  
John runs on a platform of anti-progress, proclaiming, "There's a war being waged on our way of life. The ugly truth is they want the land, and it will never look like our land again." So, if John is the face of anti-progress, Jamie will run as the pro-progress candidate. The only problem is that Jamie's biological father is a convicted murderer — not great for the campaign.  
Beth and Rip's Mountaintop Wedding 
Carter, a newly orphaned teenager, connects with Beth, who brings him to Yellowstone for a second chance. If she's being honest, Carter is a lot like Rip was 20 years ago, with the same choices he had. As Beth and Rip work together to rehabilitate their new delinquent, they seem… happy, and they finally tie the knot. So now, it's Beth, Rip, and Carter — a new set of branches in the Dutton family tree. Carter, just don't call Beth "Mama." 
Kayce's Vision Quest 
Kayce and Monica are expecting their second child and, as Kayce commits more to the Broken Rock Indian Reservation way of life, he goes on a hanbleceya. His vision quest has him "standing on a cliff of death" to find his real purpose in life. After four days and four nights of starvation, thirst, and hypothermia, Kayce sees the future: "the end of us." 
Beth Makes Jamie an Impossible Offer 
A jailhouse snitch named Chester Spears knows who put the Dutton hit together — Terrell Riggins, the former cellmate of Jamie's biological father. When Kayce brings the intel to Jamie, the ousted brother stalls; he needs time to figure out what Garrett Randall's involvement is. Garrett admits everything (he tells Jamie he's merely motivated by love for his son), while Beth follows the clues to Riggins and Garrett on her own.  
Once Beth realizes that Jamie knows who's behind the attack, she gives her brother a choice of three options: 1) She can have him arrested and he'll do life in prison; 2) She can tell Rip, who will kill Jamie once he learns about the attack and Beth's terminated pregnancy with Rip's baby; or 3) Jamie can kill Garrett himself. Jamie opts to kill his biological father and Beth snaps an incriminating photo of Jamie with the dead body. She and John own him now. He should have picked options one or two. 
The first half of Yellowstone Season 5 streams exclusively on Peacock May 25.